This week we've been reading The Very Hungry Caterpillar by Eric Carle. This time of year is perfect for reading this classic children's story. It is a fantastic Spring story, a tale of new life, of growing up and a wonderful introduction to the lifecycle of a butterfly. We made finger puppets so that Burt could act out the story as we read it and then play with the puppets to retell the story in his own words.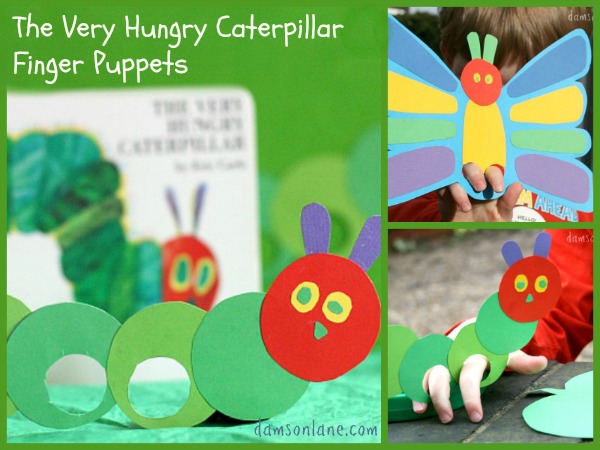 To make The Very Hungry Caterpillar Finger Puppets you will need:
The Very Hungry Caterpillar Finger Puppet Templates for the Caterpillar and Butterfly
Card or thick paper (green, red, purple, yellow and blue)
Scissors
Glue
If your toddler or child is ready then they can cut out the shapes themselves but in our case I pre-cut out the shapes for the caterpillar.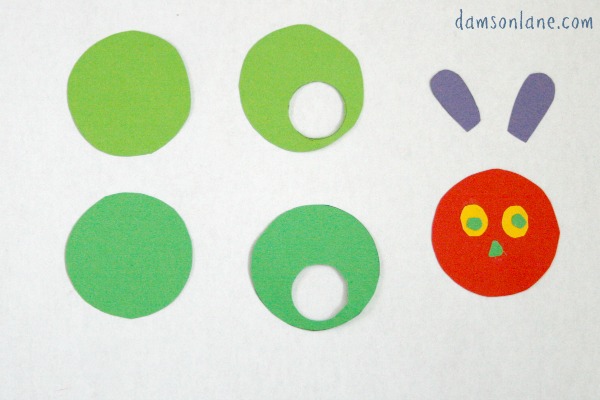 Then Burt put the pieces together and stuck them with glue. Just make sure that the two pieces with holes for the fingers are next to each other and roughly side by side. I also cut out a leaf for our caterpillar to nibble on.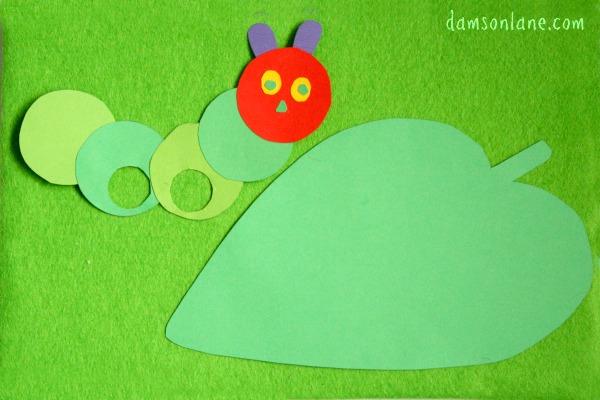 We made the butterfly in exactly the same way. Firstly, I cut out all the pieces.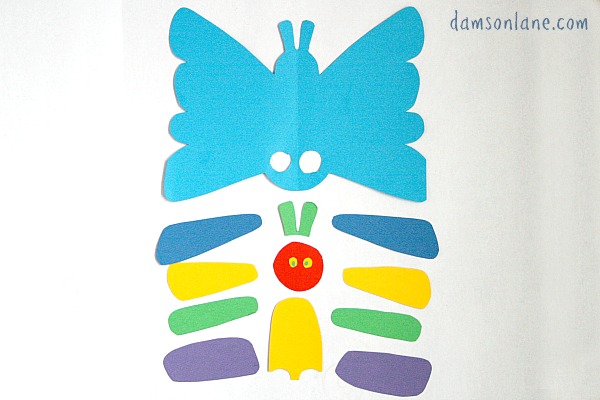 Then, Burt stuck all the pieces together using a glue stick.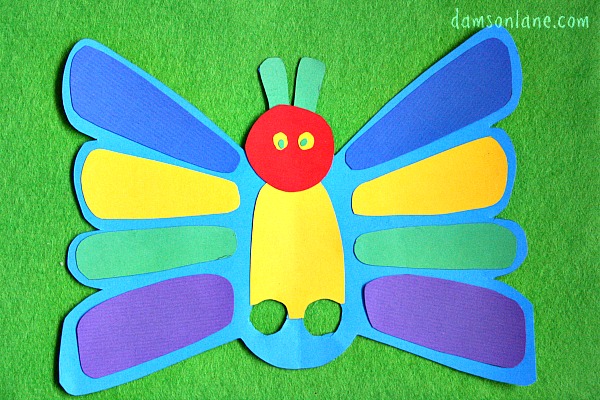 The Very Hungry Caterpillar finger puppets are really easy to make. It didn't take us long and then we could start playing! We took our finger puppets outside to explore the garden.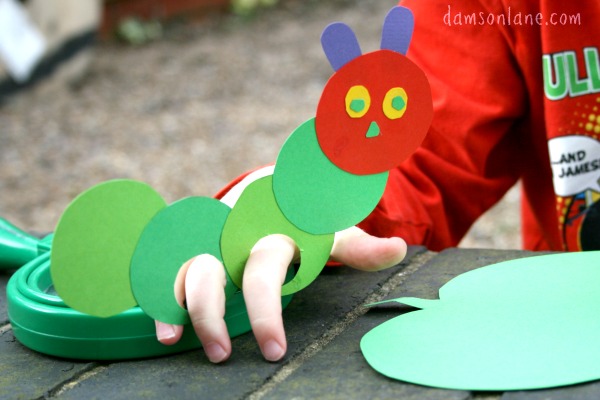 I also gave Burt a magnifying glass so that we could really investigate the outdoors!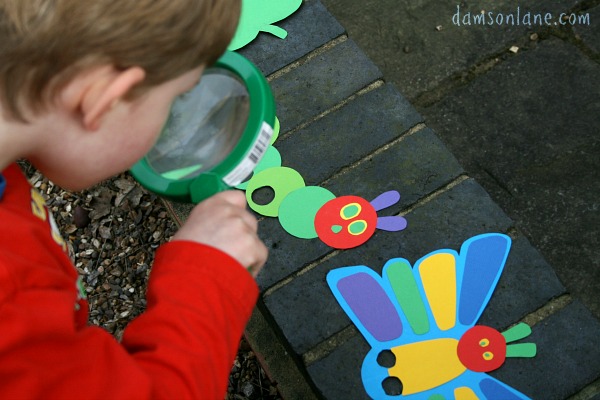 We ran around the garden with our butterflies fluttering and there might even have been a moment when they caterpillar and butterfly got a lift on a trike!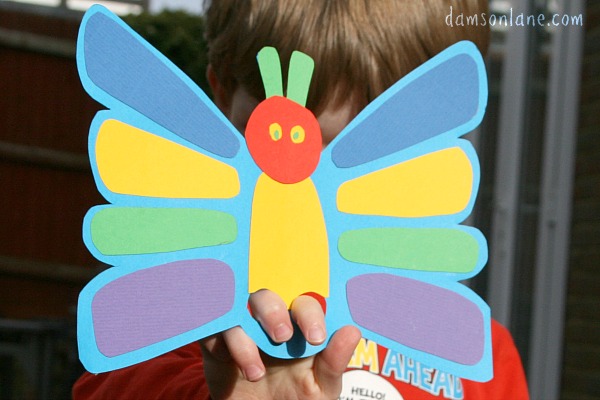 Our vegetable patch is dormant at the moment but I am sure that we will have plenty of caterpillars once we have planted out all our seedlings. For now, our finger puppets were the only caterpillar and butterfly we found.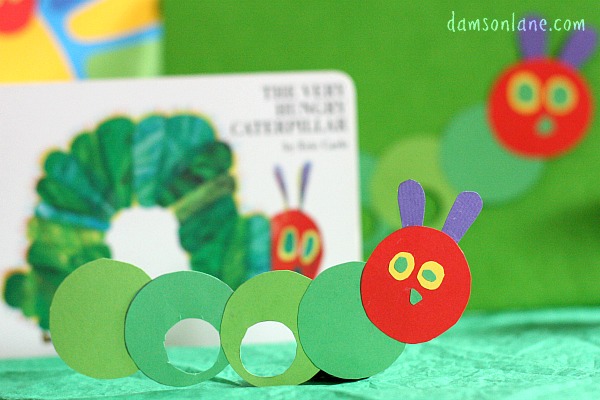 You can read more about the story that inspired us The Very Hungry Caterpillar by Eric Carle or discover some more crafts and activities linked to the book.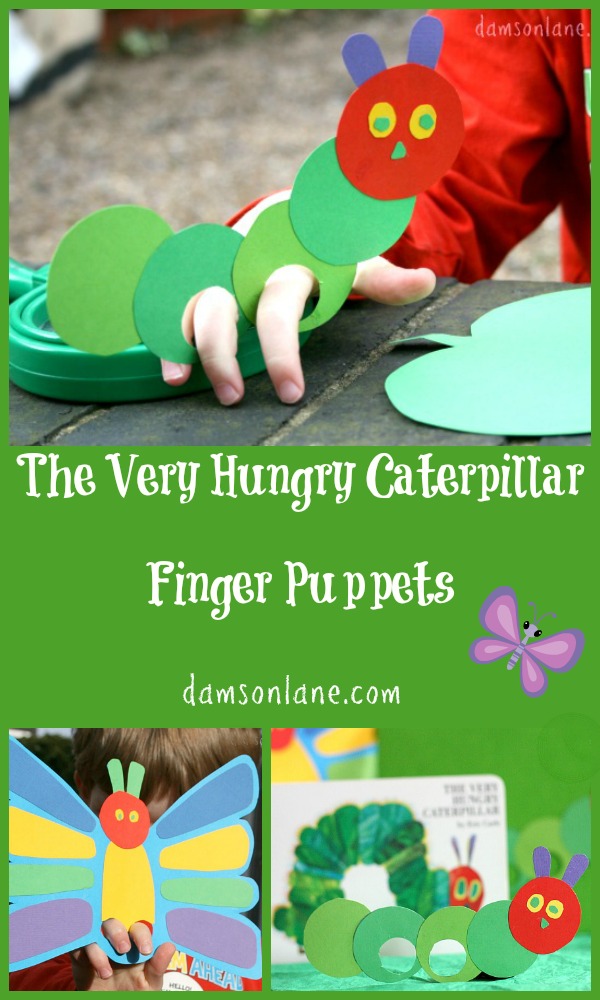 Have you been inspired by a book to craft, go on an outing or do an activity this week?
Thank you so much to the fantastic Fun Crafts Kids for featuring my The Very Hungry Caterpillar Finger Puppets. Check out the website for lots of inspiration for kids crafts and activities.