Six Little Chicks by Jez Alborough is a fantastic rhyming tale that is guaranteed to become a favourite for any child aged 5 years old and under. As well as a great story it offers opportunities for movement and counting as well as beautiful, bright illustrations.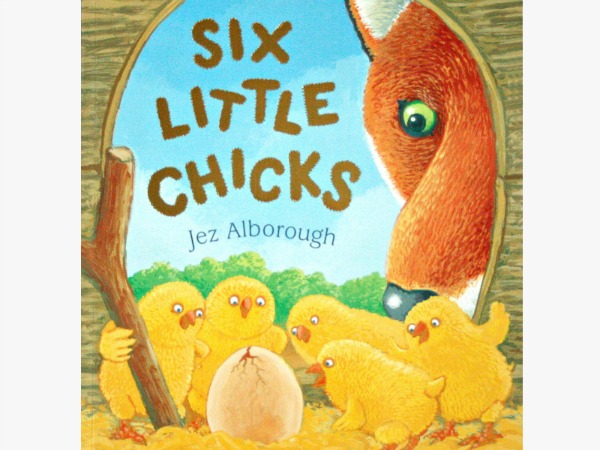 The scene is set, it's a beautiful day and five little chicks venture outside the chicken coop to play.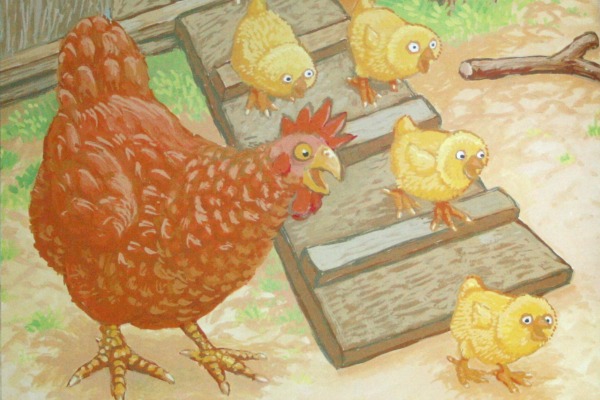 Mother Hen has a good look around to make sure that her little chicks are safe and then she goes back indoors to sit on her last egg.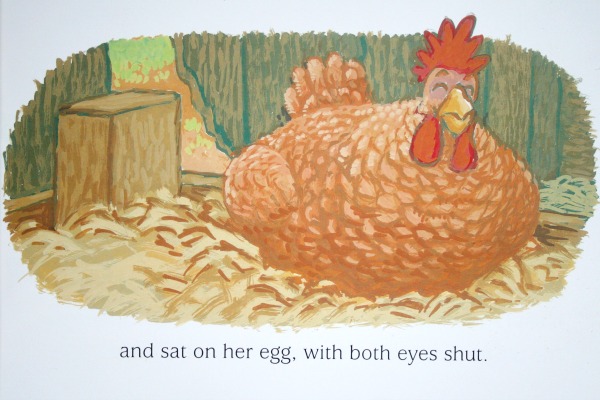 No sooner does the Hen relax than Owl cries out a warning…
The big bad fox is on the prowl.
The Hen dashes out of the chicken coop to check on her chicks. She finds them pecking, cheep cheeping, flapping, hopping and kicking. Hen has another good look around and satisfies herself that all is well.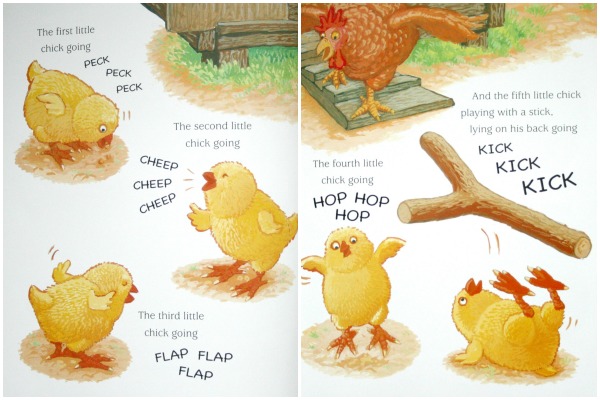 Back to the chicken coop she wanders, having warned the chicks to play closer to the safety of the chicken coop. Just as she closes her eyes Goose honks a warning…
The big bad fox is on the loose.
Once more Hen runs out to her chicks and checks all around. Once she is satisfied that all is well she clucks back to her egg. But then…
That does it! Hen calls the chicks inside. She tells the chicks to stay indoors whilst she goes off to investigate. Moments after she leaves, the chicks hear a mysterious voice.
Who could it be? The chicks move closer to find out more.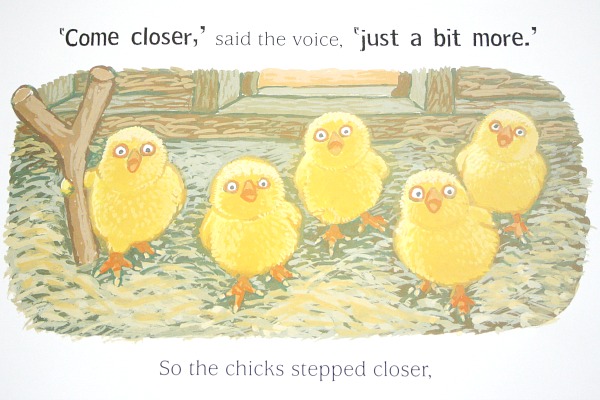 Through the crack in the back of the chicken hut the chicks meet the big bad fox!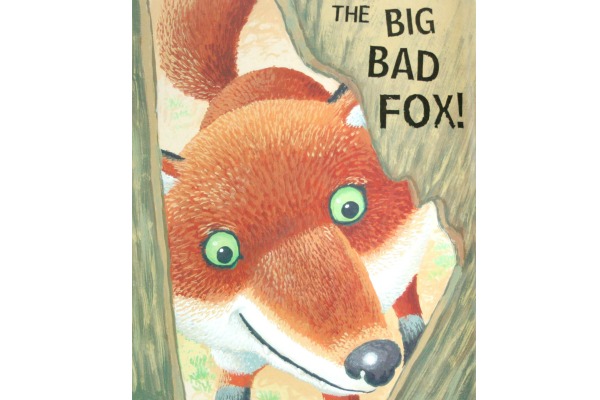 I won't ruin the story by telling you what happens next but I will reassure you that Mother Hen and the five chicks are eventually reunited.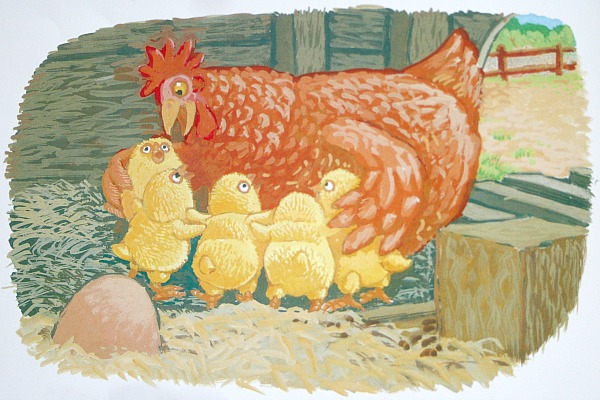 Suddenly there is a crack. The last egg hatches…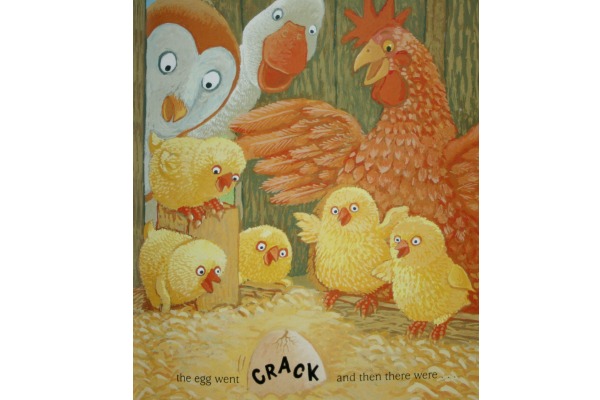 … and then there were one, two, three, four, five and six.
The drama of the meeting with the fox is a fantastic climax to this story and he is defeated in the chick's very own style. Counting feels a natural part of the story and the rhyme leads you through the adventure. It is a well-loved story in our home and a fantastic read for Spring and Easter.
Talk about
Six Little Chicks obviously lends itself to practising counting and numeracy skills but it could also prompt a discussion about fears, bravery, new life or even why it is important to play within the boundaries set by a parent or carer.
Here are some ideas or questions that you might want to use to start a discussion in your family. You know your family and which questions they are ready to tackle now and which can be left for another day:
Where do chicks come from?
Why does the Hen keep coming outside to check on her chicks? What is she worried about?
Are you ever worried about anything?
Is there anything you are afraid of?
Do you think that the chicks in the story are clever or lucky?
What do the pictures tell you about the chicks?
Have you ever been told to only play in a certain place? Why do you think that was?
Why is it important to always let a grown-up know where you are?
Crafts and activities for kids
There are lots of opportunities for discussion, play and crafts inspired by Six Little Chicks by Jez Alborough. Get your children to act out all the movements of the chicks to get them up and active. There are lots and lots of ideas for creating your own little chicks and you can have lots of fun creating and counting.
Have a look at the Pinterest Board full of crafts and activities for kids…
Follow Read and Create's board Six Little Chicks by Jez Alborough on Pinterest.
or take a look at these activities to accompany reading the book:
Here is a short video of the author Jez Alborough reading Six Little Chicks.
What have you been reading this week?