The Storm Whale by Benji Davies is a tender and gentle story about the relationship between a boy and his father.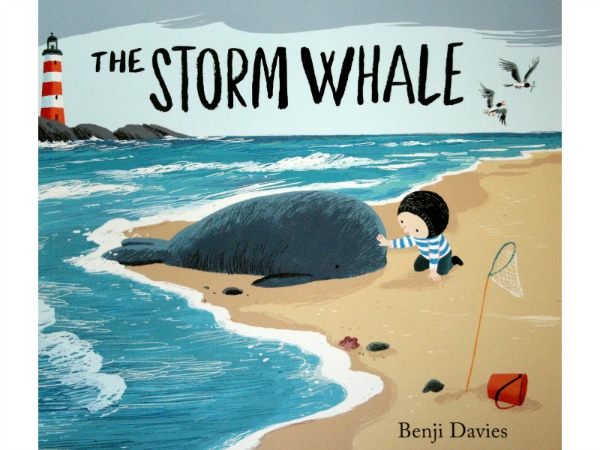 Noi and his dad live in a beautifully ramshackle wooden house right by the sea, with their six cats.  It looks idyllic but something isn't quite right. Noi is lonely. The illustrations, that convey a distance between Noi and his dad, are also incredibly detailed - can you find the six cats? They are all there but you have to really look, which is great fun and a fantastic skill for children to develop.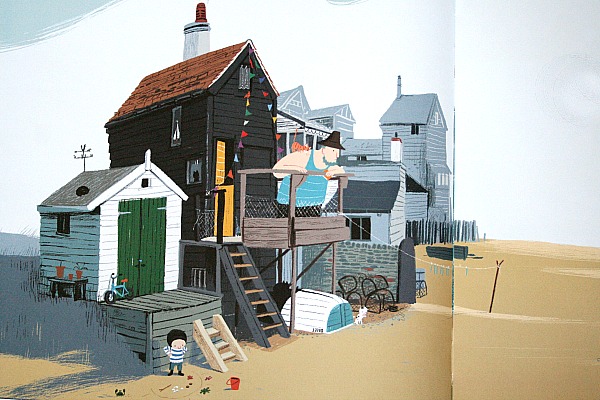 Noi's dad sets off to work and leaves Noi at home with the cats. From the way Noi is kneeling next to the window you can tell there is a tension. Noi does not wave. Noi's dad doesn't look back. Noi isn't sitting comfortably.
Noi decides to go down to the beach to see if anything has been washed up on the shore after a particularly bad storm. Incredibly, Noi discovers a small whale beached on the sand.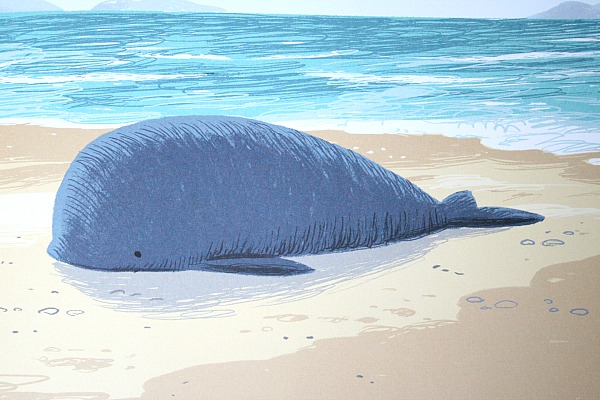 He knows it isn't good for the whale to be out of the water for long so he manages to get the whale onto a trolley and he wheels him home, then hides him in the bath!  Little Noi is so tender and caring, he is obviously trying his best to help the little whale. There are two cups on a tray on the floor so it looks like he has made himself and the whale a drink, with chocolate chip biscuits. He is carefully stroking the whale's back and playing music that he thinks the whale will like: Sounds of the Sea and Handel's Water Music.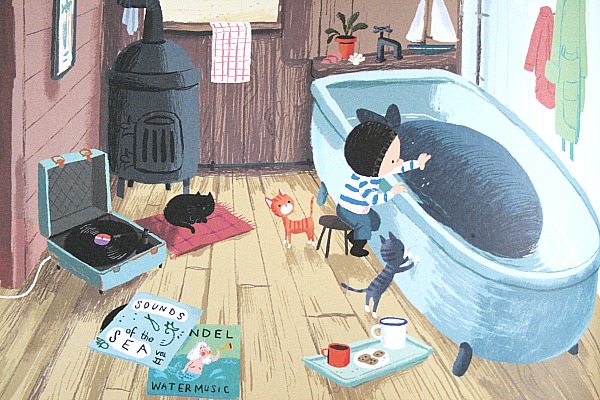 When it turns dark outside Noi's dad returns home. Noi manages to keep his secret all  through supper but it is difficult to hide a whale and Noi's new friend is soon discovered.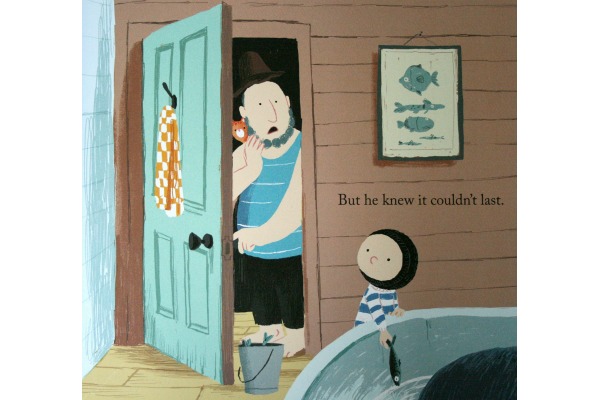 Noi's dad is sorry that no-one was around to help Noi care for the little whale and he realises how lonely Noi is, at home all day.  He resolves to put things right, so together they row the little whale out to sea and return him to where he belongs. It is hard to say goodbye to the whale but having Dad by his side makes it easier.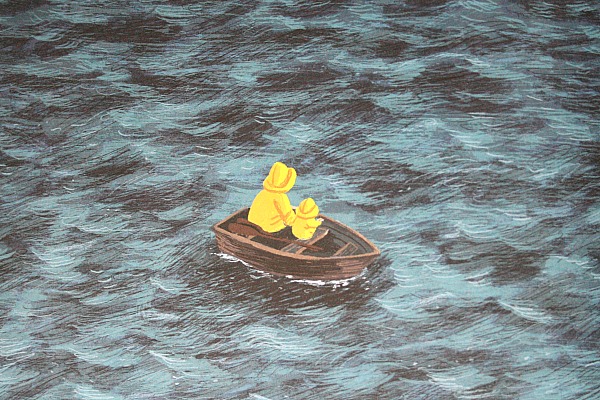 From that moment on things change for Noi and his dad. They spend more time together.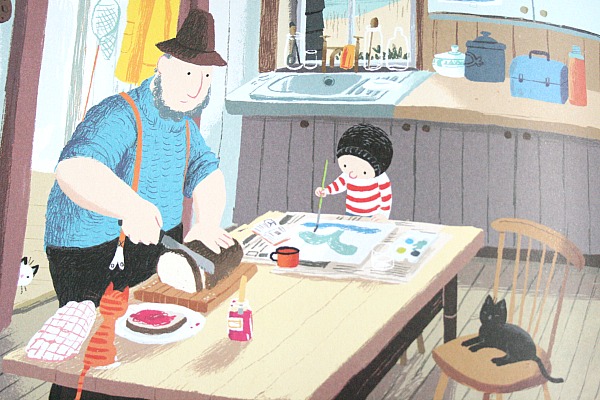 One day they are sharing a picnic by the sea. The two mugs that Noi had filled with drinks for himself and the little whale are now for Noi and his dad.  What do they see? Out in the ocean two tail fins, one small and one large: the little whale has been reunited too.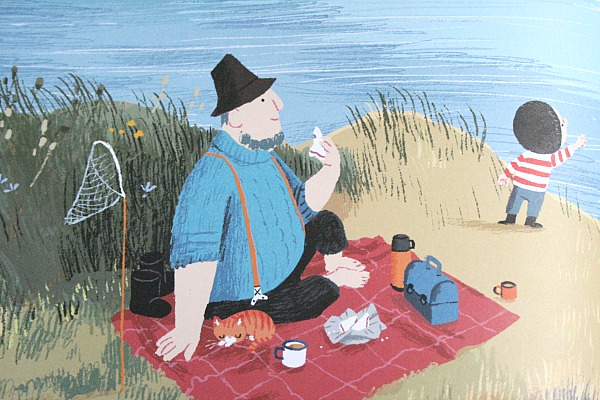 The ending is reassuring, heart-warming and comforting.  There has been a positive change for both the Storm Whale and Noi.
Talk about
The Storm Whale is a gentle reminder that sometimes you need to make an effort to stay connected to each other. Noi's dad is plodding through life but it takes the Storm Whale to make him realise that he needs to make more time to share with Noi.
Here are some ideas or questions that you might want to use to start a discussion in your family. You know your family and which questions they are ready to tackle now and which can be left for another day:
How does Noi feel when his dad goes off to work?
How do you know how Noi is feeling?
Why doesn't his dad notice how he is feeling?
Does Noi tell his dad how is feeling?
Is it a good thing to tell someone how you are feeling?
Why did Noi take the little whale home?
Was it the right thing to do?
What would you do if you found a whale beached on the sand?
Why did it make it easier for Noi to say 'goodbye' to the whale when his dad was with him?
Can you think of anything else that is easier when your dad is with you?
Crafts and activities for kids
The Storm Whale by Benji Davies is a wonderful starting point for exploring many creative projects and we decided to concentrate on the theme of the sea.
Take a look at the Pinterest Board full of crafts and activities for kids or take a look at the activities below, to accompany reading the book:
Follow Kirsty Hornblow's board The Storm Whale by Benji Davies on Pinterest.
Have you read any good books this week?