Only One You by Linda Kranz is inspirational. It is a book that I would love to see on a shelf in every home. The messages within are important and just as valid for adults as they are for children. It is also full of colour and it feels like a celebration of life.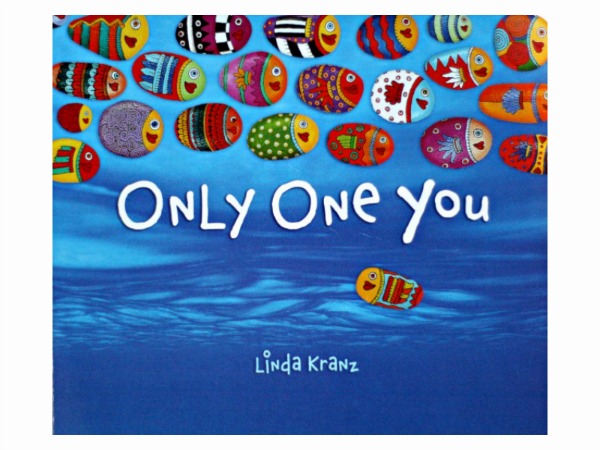 Reading Only One You with Burt has been such a fantastic experience. Every page has prompted lots of questions and thoughts and discussion, so much so that I am sure this book will continue to be read in our home for years to come. I love the first and last pages, which are covered in positive affirmations and imperatives.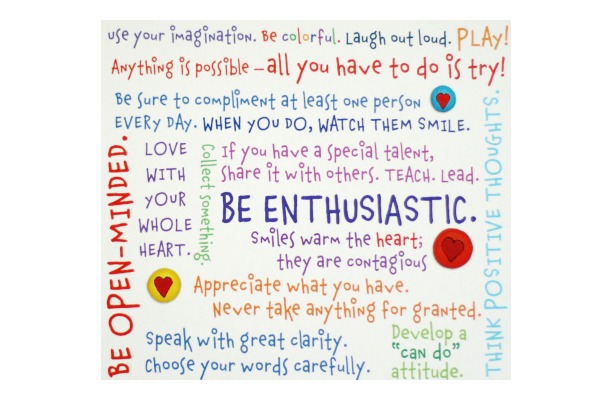 The story begins with Papa and Mama and their child Adri.  Papa and Mama agree that it is time to share some wisdom with Adri, before he goes out into the world. This prompted the first question from Burt, "What is wisdom?" What a great question for a 2 year old to ponder!
As you read the book take a good look at Papa and Mama fish. What do you notice about each fish? What patterns or shapes can you see? Mama has a heart and Papa has a sun pattern. On every page there is one or both of Mama and Papa, so you can keep young children engaged by also searching for Mama and Papa in the illustrations.
The wisdom Papa and Mama impart through the story is beautiful and you could easily spend hours just thinking about each page. Although there are few words, those words have great significance and helped me to think about the life lessons and 'wisdom' I would like Burt to consider as he grows up.
Always be on the look out for a new friend.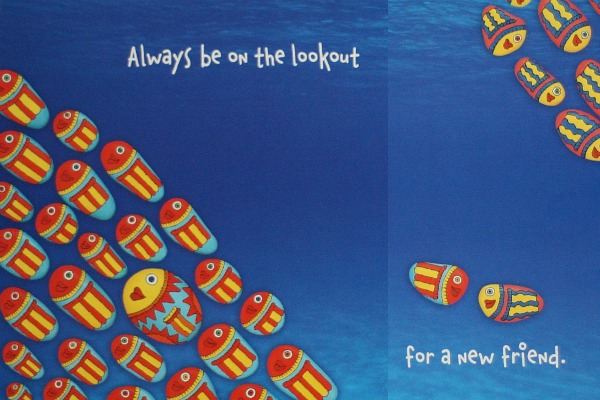 Find your own way. You don't have to follow the crowd.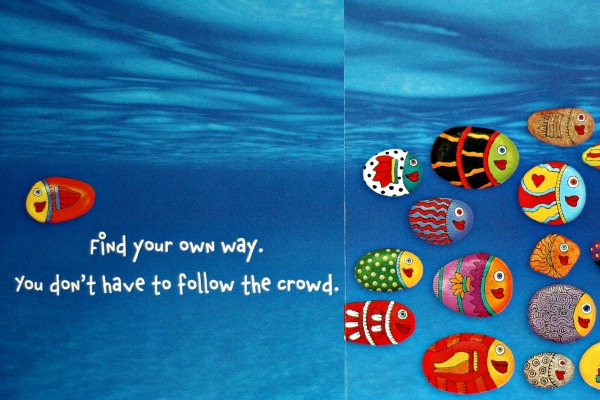 Set aside some quiet time to relax and reflect. Every day.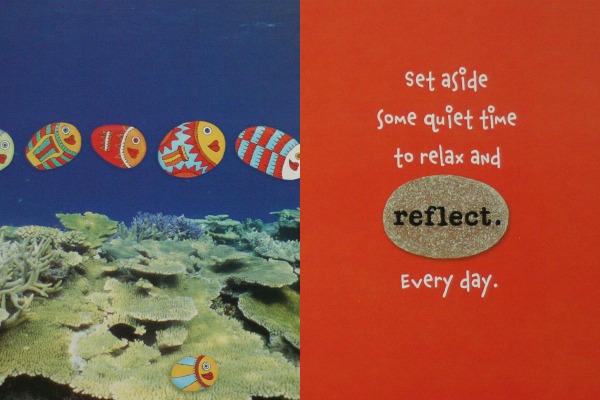 In time I would like to write my own words of wisdom for Burt, or we could even write some together and that would be a lovely project to work on if you have older children.
The story ends with such powerful words…
There's only one you in this great big world. Make it a better place.
Making the world a better place is a huge concept but breaking it down into words of wisdom makes it easier to think about and hopefully put into practice!
Talk about
Only One You is full of discussion points but the main theme of our discussion has been what we think a good friend is like and how we can be more like that person. For young children in particular it helps to focus on an 'ideal person' and to think about their qualities rather than to think about abstract concepts.
Here are some ideas or questions that you might want to use to start a discussion in your family. You know your family and which questions they are ready to tackle now and which can be left for another day:
What is wisdom?
Do you know anyone who is wise?
How could you become wiser?
Who are your friends?
What do friends do together?
How can you be a good friend?

When might it not be a good idea to follow your friends or the crowd? 

Sometimes a friend might ask you to do something that you don't agree with, or something that you know is wrong. What would you do in this situation?
Can a smile really make the world a better place?
How can you make the world a better place?
You could also use the book as a starting point to think about beauty, what it is and where you might find it. You could also use Only One You to think about relaxation and reflection, how to relax and what you hear if you are quiet and you really listen.
Crafts and activities for kids
Only One You is illustrated with pictures of painted stones, so after we read the book we made our own painted stones. It was a fantastic activity. Choosing the right stones was a lovely, tactile activity and then Burt enjoyed washing them with lots of soap and bubbles! Painting inspired even more conversation and then we picked some of our favourite phrases and I wrote them on the bottom of the stones, along with the date.  We also cut out hearts and wrote our favourite affirmations on them and stuck them on the walls.
Have a look at the Pinterest Board full of crafts and activities for kids…
Follow Read and Create's board Only One You by Linda Kranz on Pinterest.
Or take a look at these activities to accompany reading the book:
What have you been reading this week?