My Dad by Anthony Browne is a special moment suspended in time. If you think back to your childhood, I hope that there is a time when you thought your Dad could do absolutely anything.  This picture book and the stunning illustrations preserve that perception with humour and playfulness.
This picture book is wonderful to share with children as there is so much to look at, discuss and wonder at.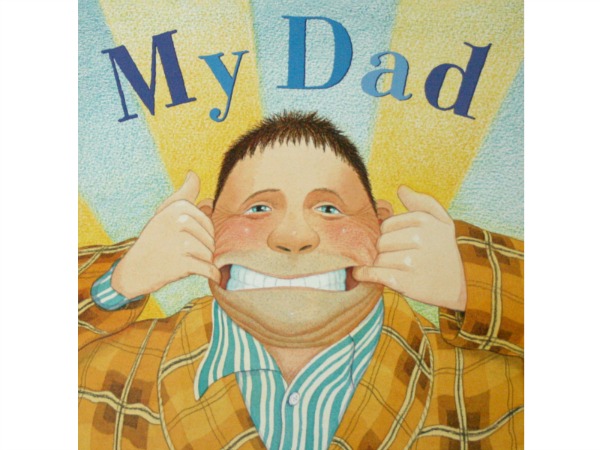 The book is inspired by Anthony Browne's father and his dressing gown. The pattern is distinctive and appears on every page of the book. The dad in the story is amazing. He isn't afraid of anything and he can even jump over the moon…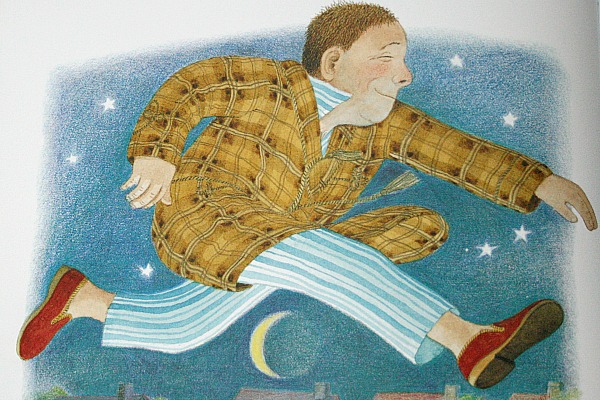 Anthony Browne's books always leave room for questions in the illustrations. We love the image of Dad on a tightrope with a crown formed of clouds and a pair of socks on top of the washing line, following his footsteps. These details make the stories even more engaging and even very young children can play the 'game' and look for the stories in the illustrations that don't reveal themselves in the text.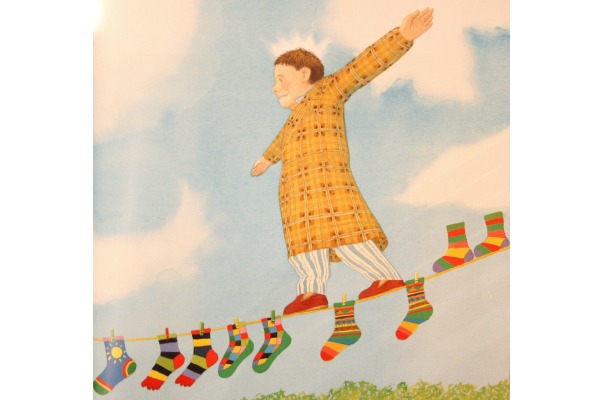 This dad can eat like a horse and the legs of the chair he is sitting on have hooves.
If you only read the text in the book then this dad is a brilliant singer but the look on the other singer's face tells a different story! The relationship between text and pictures is an important lesson for children to learn and Anthony Browne's illustrations often reveal much more.
 We love the buttons on Dad's pyjamas in this picture. They all have a little smiling face. Everytime we read this book we find new details, quirks and even make up our own.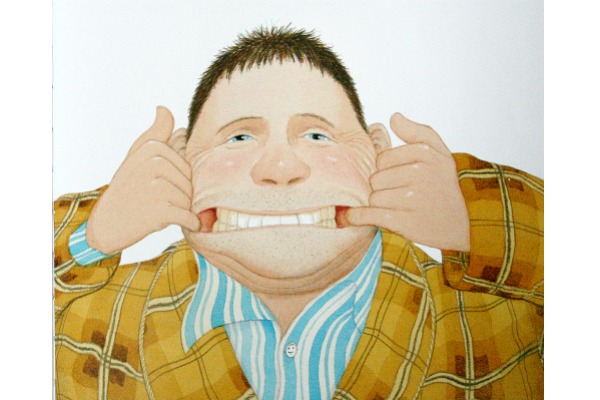 Most importantly of all…
I love my dad. And you know what? HE LOVES ME! (And he always will).
This is the perfect ending to an inspiring picture book. On some days we think the background looks like rays of sunshine and on other days we think that it looks like the rings of a tree.  Anthony Browne's father died when he was 17 and I have also thought that the dad looks quite angelic in this illustration.
Although the words in the book are few, they are carefully selected and there is so much to talk about in the pictures. You can tell from Dad's face that there is love there and it is interesting to talk to little ones about how they know that, or whether they disagree.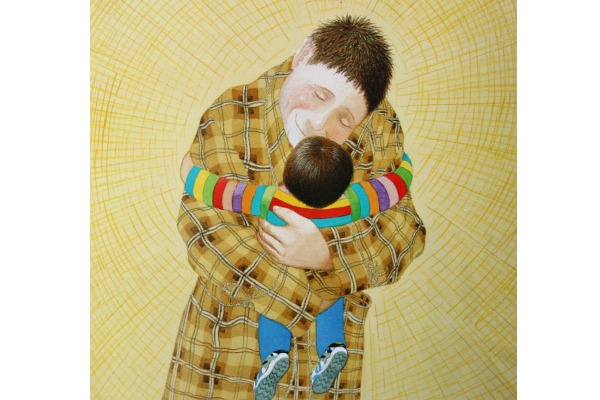 Adults often make the mistake that picture books are for young children and that as children get older they should move to proper books (meaning chapter books and books with more words and fewer pictures). Sadly these adults are completely missing the point of picture books - the story is in the few but very carefully chosen words and the illustrations.  Picture books are meant to be pored over, examined in detail, shared, discussed. There is so much within the pages and you have to work on your relationship with the book to get the full story. This is an incredibly important lesson for children to learn and develops the skills of really looking, focussing and analysis.
This is a fantastic video introducing Anthony Browne and I recommend it if you aren't familiar with his books. At 8 mins 50 seconds he also talks about the dressing gown and how it inspired his writing.
>
Talk about
My Dad is filled with talking opportunities. Every page tells a story in the text and more of the story in the illustrations and it is your task as the reader to find and tell your own version of that story.
Here are some ideas or questions that you might want to use to start a discussion in your family. You know your family and which questions they are ready to tackle now and which can be left for another day:
What does the dad's face tell you about the person? Is he kind? Is he angry? What do you think?
What can you see?
Can you find sunshine in the pictures? Why do you think there is lots of sunshine in this book?
Do you think that this dad really is an excellent dancer, singer, footballer?
What do the details tell you about the story?
What is your Dad really good at?
When does your Dad make you laugh?
Does your Dad love you?
How do you know?
How do you show your Dad that you love him?
Crafts and activities for kids
My Dad by Anthony Browne is filled with creative illustrations with inspiring details.  The picture book is a rich starting point for all sorts of creative projects. As Father's Day is fast approaching in the UK it is also a very special gift for any Dad.
Take a look at the Pinterest Board full of crafts and activities for kids or take a look at the activities below, to accompany reading the book:
Follow Read and Create's board My Dad by Anthony Browne on Pinterest.
What books are you reading this week?