This week we've been reading What the Ladybird Heard by Julia Donaldson and Lydia Monks.  We decided to get crafting our own little ladybirds.
Salt dough is very easy to make but it does take time to dry out, so if you need your ladybirds for a particular day make sure you plan this particular craft in advance. We created our salt dough ladybirds over the course of two days.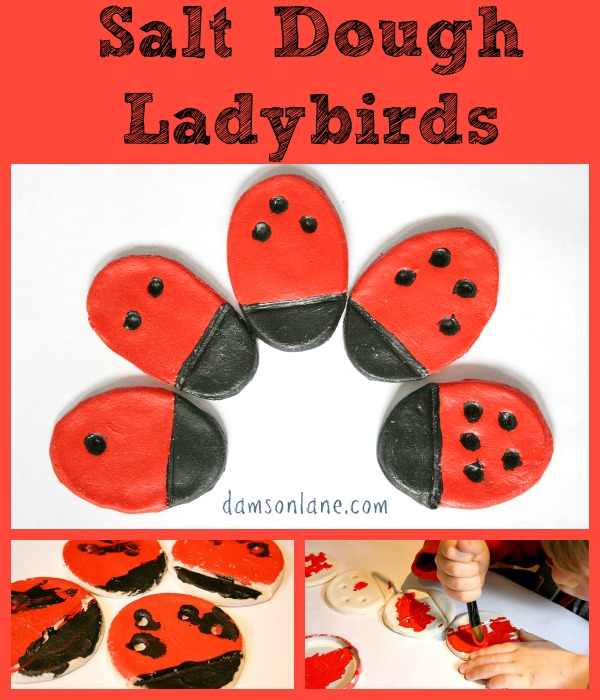 For this Salt Dough Ladybird Kids Craft you will need:
plain flour
cooking salt
water
a cup or cup measures
mixing bowl
ladybird shape (we used an empty yoghurt pot and a coffee mug as our cookie cutters)
greaseproof paper
baking sheet
a pencil
an oven
red and black paint (we used acrylic paints)
paintbrush
First of all we created our salt dough. I used:
one cup of plain flour
half a cup of salt
half a cup of water
Scoop one cup of plain flour into a mixing bowl and then add half a cup of salt to the bowl and give it a stir. Then, slowly add half a cup of water - each time adding a little and mixing it in, before adding some more. Once you have added all the water, the dough looks very dry but don't be tempted to add more water. Start kneading the dough in the mixing bowl and very quickly all the ingredients should bind together into a ball.  Then, take your ball of dough out of the mixing bowl and knead the ball of dough for about 10 minutes. When you are happy that you have a stretchy, smooth dough, roll it out to about 0.5 cm thickness.
You don't need cookie cutters to make a ladybird shape. We had a look around the kitchen for ladybird shapes and decided to use an empty yoghurt pot and a coffee mug as our cutters. Anything that is circular or an oval will work.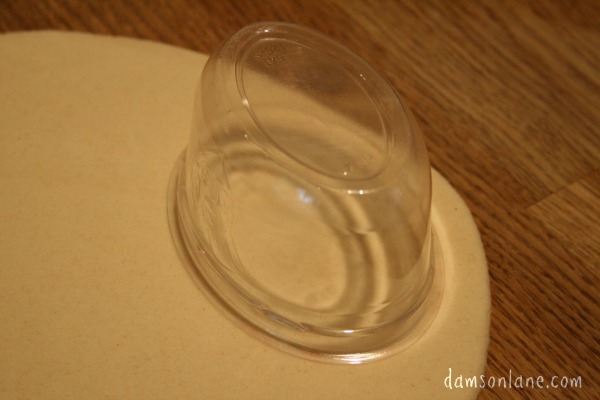 As we cut out our ladybird shapes, we placed them onto a baking sheet covered in greaseproof paper. Then, using the end of a pencil we made dots to represent the spots on the wings of our ladybirds. Burt is really into counting at the moment so we gave our ladybirds different numbers of spots so we can use them to count with. I also laid the pencil on its side to make an indent between the head and the body of the ladybird to make them easier for Burt to paint.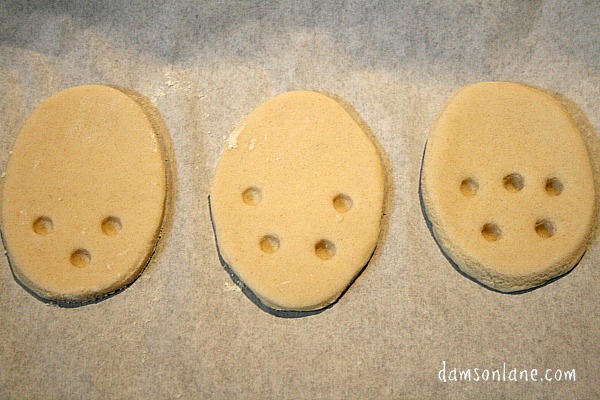 When the salt dough shapes were ready I put them into a very low oven. We started at 100 degrees but in our fan assisted oven the ladybirds started to rise, so we turned the temperature down to 75. Keep an eye on your ladybirds and if they start to puff up turn the oven down and turn the ladybirds over for half an hour before turning them back. Leave the ladybirds in the oven until they are fully dried out and hard. Ours took nearly 4 hours.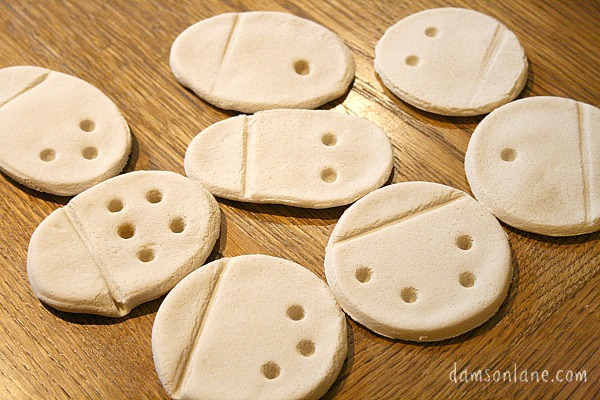 The following day we took our ladybird shapes and got ready to paint.
We looked through What the Ladybird Heard to check that we knew what a ladybird looks like, then we got painting. We used acrylic paints as they give a really bright finish and the paint doesn't flake off once the paint is dry. If you decide to use acrylics then make sure that your little ones are covered up or wearing old clothes and that you cover your surfaces. If you decide to use poster paints then you can always give your finished ladybirds a coat of clear varnish to prevent the paint from flaking.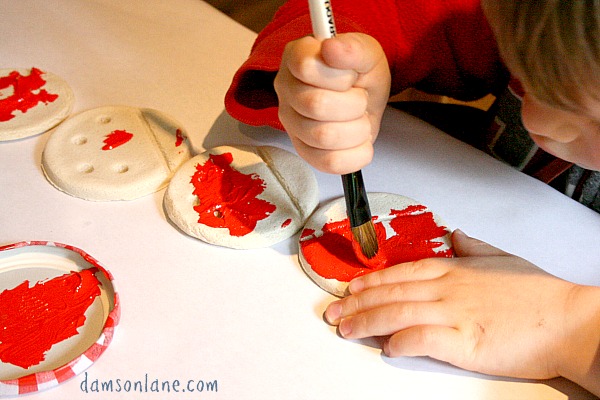 The indentations really helped Burt when he was painting and there was even more counting when painting the ladybirds spots.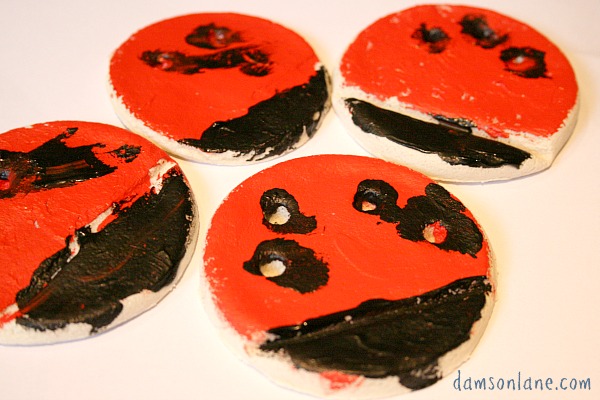 We only made sets up to 5 but they are so tactile, bright and colourful that we have already decided to make more so we have a set up to 10.
The indentations make counting a sensory experience as you can't help but touch the indentations as you count. The ladybirds have already inspired lots of counting games. We have been busy putting the ladybirds in number order, matching them with their numerals, making up songs.  All the ladybirds even came with us to a live theatre performance of What The Ladybird Heard too!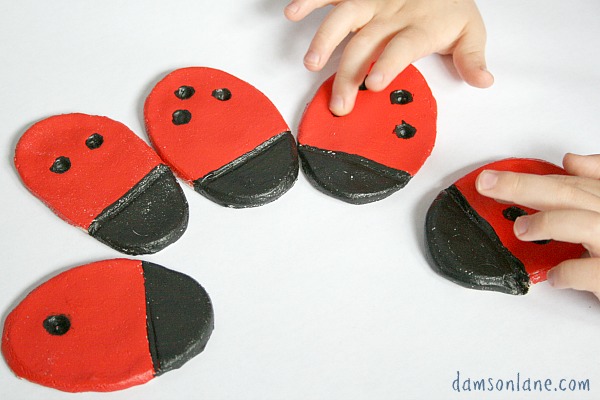 This activity allowed Burt to make some really cute ladybirds that we can also now use to work on number ordering and number recognition, as well as using in imaginative play.
You can read more about the story that inspired us What the Ladybird Heard by Julia Donaldson by Lydia Monks or discover some more crafts and activities linked to the book.
Have you been inspired by a book to craft, go on an outing or do an activity this week?