This week we've been reading Beautiful Oops! by Barney Saltzberg, a book that encourages children to see the beauty and opportunity in something that you might otherwise think of as a mistake. We decided to spend sometime getting creative without an end in mind - just to see where the paint took us.
This is a fantastic activity for opening children's imaginations up to the endless possibilities that a page (even torn or bent) and some paint offers. To make things interesting I got out some pippets or droppers and collected together little medicine syringes, so that we could paint a little differently.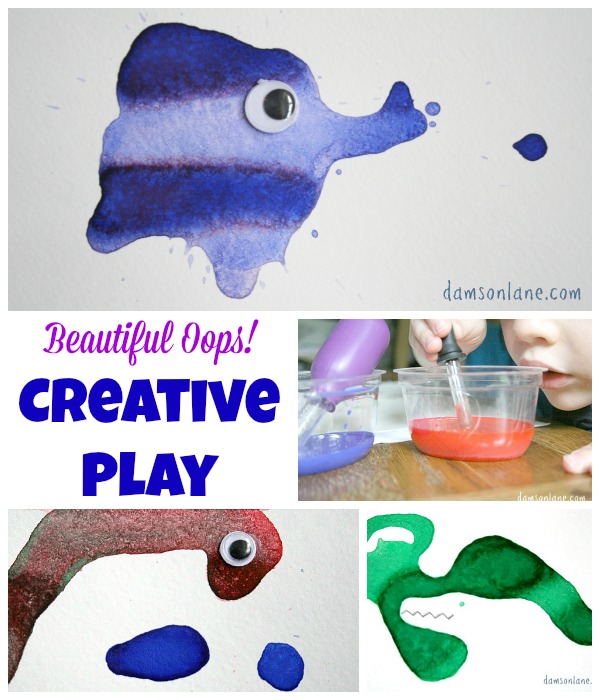 For this Creative Play Activity you will need:
white paper (we used watercolour paper but any thick cartridge paper will work)
poster paint (we used red green and blue)
water
pippets/droppers or empty plastic syringes
goggly eyes and feathers or sequins
glue
Painting with pippets or droppers is a brilliant preschool activity as all the squeezing builds up fine motor strength so that your child is ready for writing later on.  The hand-eye co-ordination and concentration needed develops key skills. For this activity we used a Jumbo Pipette

 as well as syringes we have accumulated over the years (please note you only need plastic syringes you definitely DO NOT need any needles).
I squeezed some paint into yoghurt pots and added some water to dilute the paint. Then we got painting.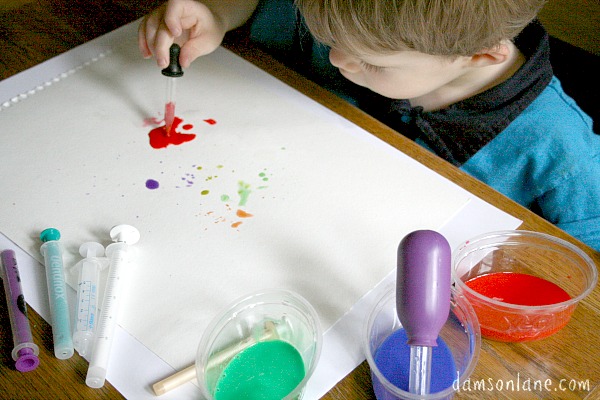 Burt found squeezing the watery paint with the pippets or droppers easier than using the syringes and found the process fascinating.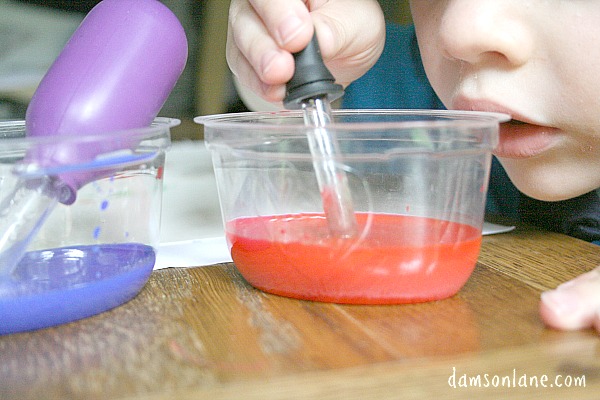 This activity is about letting creativity take over so all Burt needed to do was select his colour and then squeeze the paint onto the paper. He even managed to make a few bubbles, which he was delighted with! This activity was so popular that we painted for nearly an hour, so we will definitely be doing this again!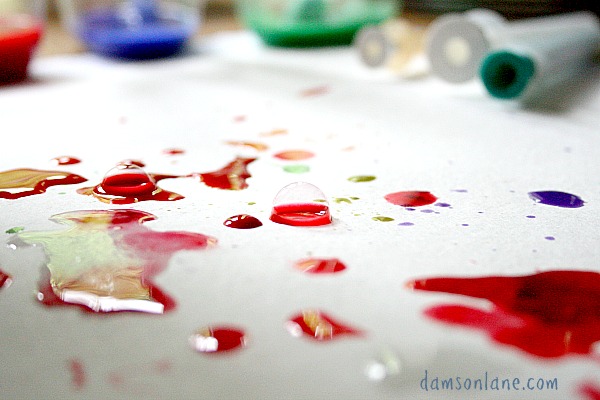 Once we had finished painting Burt wanted to continue playing with the pippets or droppers and he had great fun mixing the paints in the pots.
We left the completed paintings to dry out overnight and when the paint was dry we looked closely at the shapes, patterns and colours. It felt a little bit like looking for shapes in the clouds. Burt soon got the hang of it and with some goggly eyes and feathers we started to create characters out of the paint splodges and splurges.
First we found a parrot.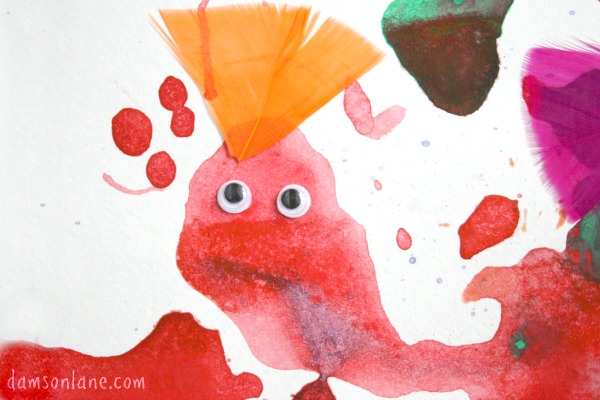 Then, we found a dinosaur looking after some dinosaur eggs.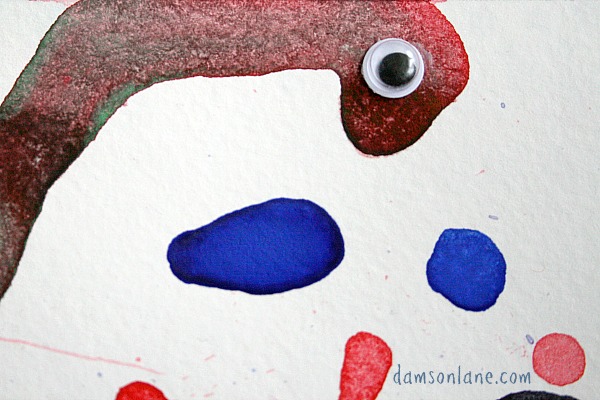 There was a duck swimming on a pond.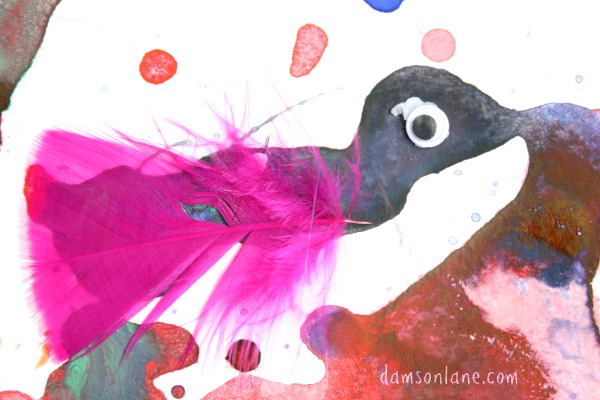 A really cute elephant who is squirting water.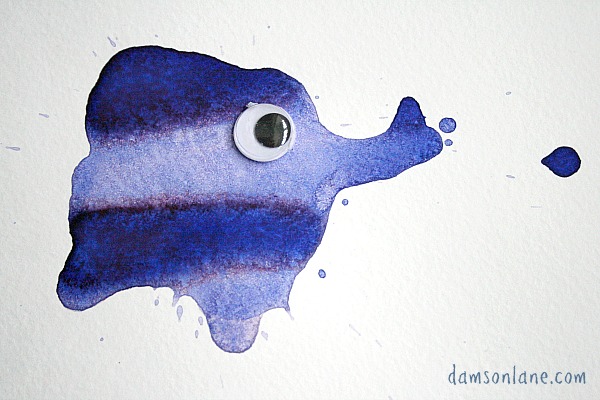 And even a crocodile!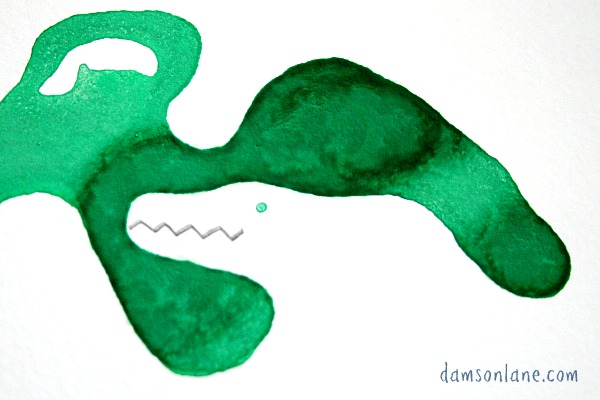 This activity really allowed Burt to use his imagination and we even started to tell stories about the characters that had appeared in the painting.
You can read more about the story that inspired us Beautiful Oops! by Barney Saltzberg or discover some more crafts and activities linked to the book.
Have you been inspired by a book to craft, go on an outing or do an activity this week?
*This post contains affiliate links for your convenience.