This week we've been reading The Tiger Who Came to Tea by Judith Kerr. The story is well-loved in our home. A mischievous tiger arrives, unannounced, to have tea with a little girl called Sophie and her mummy. Tigers are beautiful animals and we wanted to create something to capture the patterns and texture of this majestic animal.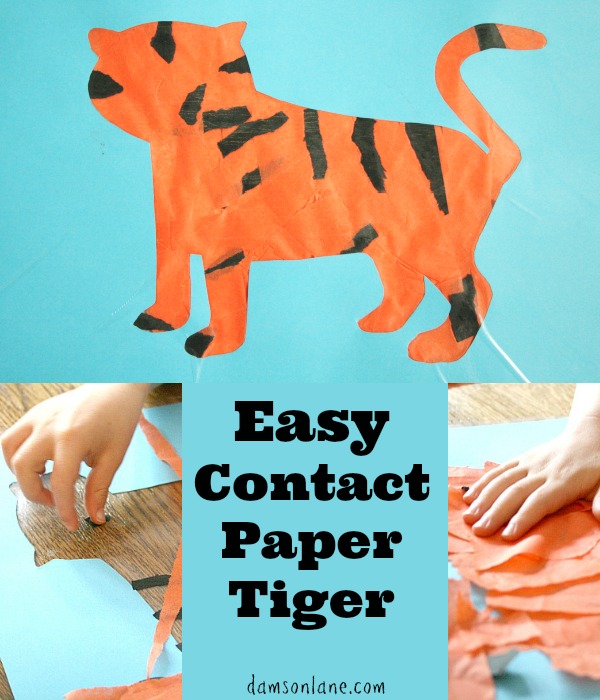 For this Easy Tiger Craft for Kids you will need:
blue card
contact paper (sticky back plastic)
orange tissue paper
black paper or card
scissors
pencil
First of all I got Burt to help me tear the orange tissue paper and black card. Tearing paper is a really good activity for building fine motor strength and many children enjoy the thrill of actually being asked to deliberately rip something up. We enjoyed it a little too much and ended up with more strips of orange tissue paper than we really needed. If you are only making one tiger then you only need enough to cover the template but it is difficult to stop a toddler tearing up tissue once you get them started, so only get out as much as you think you will need!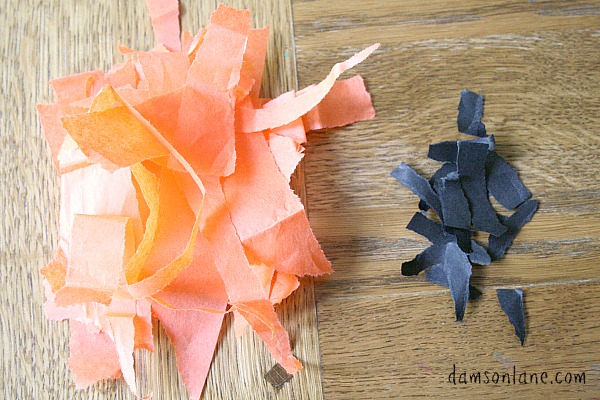 Print your tiger template (you can print one from the list of materials above) and cut it out with your scissors. Then, lay the template on the blue card and draw around it with a pencil. Don't cut around the tiger shape, instead cut out the middle of your tiger shape so that the tiger shape ends up as a hole in the centre of your blue card.
Take the contact paper (also known as sticky back plastic) and carefully cover one side of your blue card. I find I get the best results if I stick a little bit of the contact paper on the craft table and then smooth the contact paper downwards onto the card. Because it is stuck to the table it doesn't move around so you can concentrate on not getting a smooth finish on the card.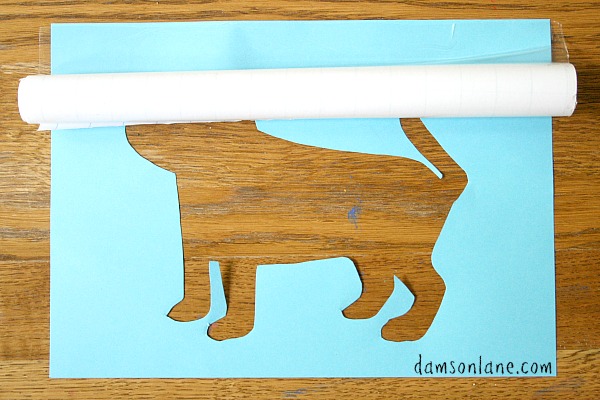 Once the whole piece of card is covered turn the card over. You will have a tiger-shaped hole in your card which is now sticky from the contact paper. Now you can take all your strips of torn tissue paper and card and stick them to the contact paper (or sticky back plastic).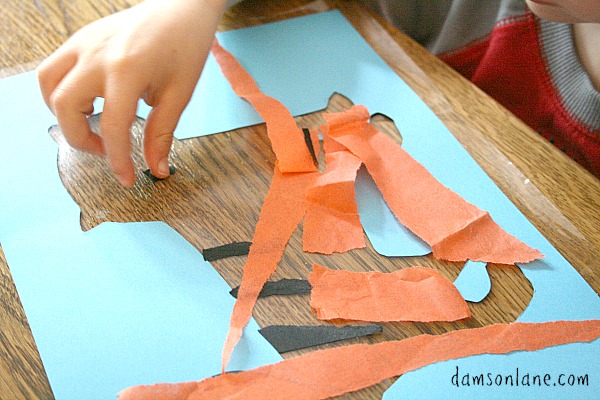 You want to cover the whole template and don't worry about being too neat. As you stick make sure that you also press down to make sure the paper is sticking to the contact paper.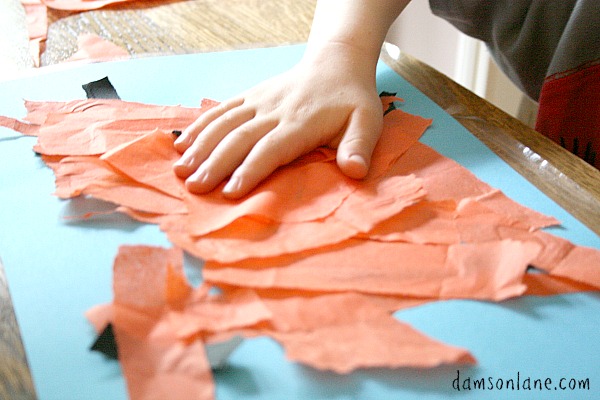 Once you are happy that the whole shape is covered, take some more contact paper (or sticky back plastic) and cover the tissue paper and card.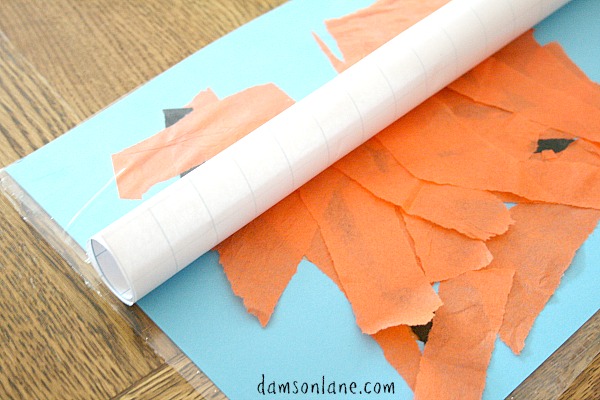 Then turn over the blue card. Burt was really surprised to find that the other side of the card now revealed a beautiful tiger. It is a really easy craft for even young children to get involved with and the finished results are really spectacular. You can stick the tiger on the window and it really shows up the stripes of tissue paper.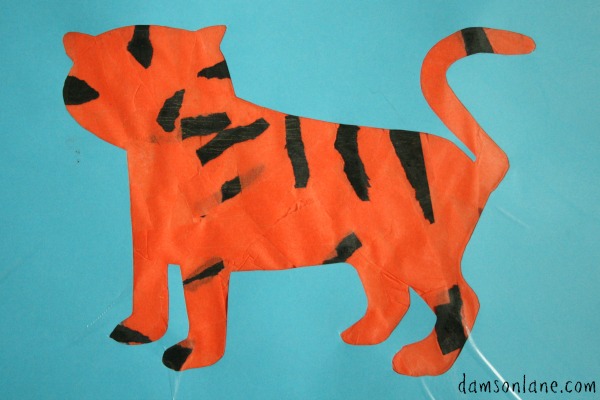 You can read more about the story that inspired us The Tiger Who Came to Tea by Judith Kerr or discover some more crafts and activities linked to the book.
Have you been inspired by a book to craft, go on an outing or do an activity this week?
I am very excited as Damson Lane has been shortlisted for a Brilliance in Blogging Award in the Crafts category this year.  Thank you to everyone who has visited Damson Lane, joined in with #kidsbookaweek and to everyone who nominated.  
If you have a moment please vote for Damson Lane under 'Crafts' as I would love to make the finals. 
xxx