Sometimes you think you know something so well and all of a sudden a light shines to make you question everything you ever thought about it. I loved this week's book The Giving Tree by Shel Silverstein from the moment I first read it. It is a beautiful, simple story about tender, kind, unconditional love. I wanted to share this book, that I have treasured so dearly, with my son.  After reading it together, just once, I saw the story through new eyes. This is the really exciting bit of reading a story with another: you see the book from a different perspective.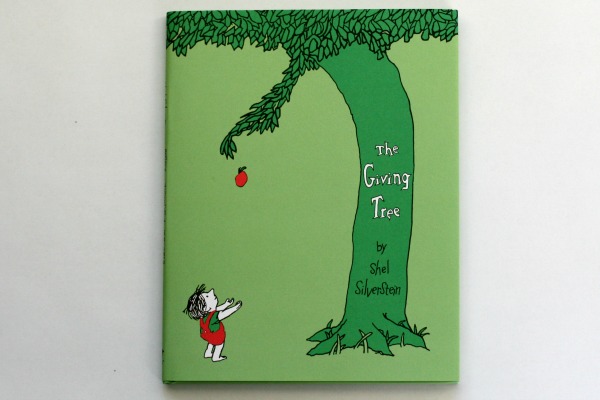 The Giving Tree is about a boy and a tree. The tree loves the little boy. He plays in the shade of her branches, climbs her trunk, eats her apples and they enjoy their time together.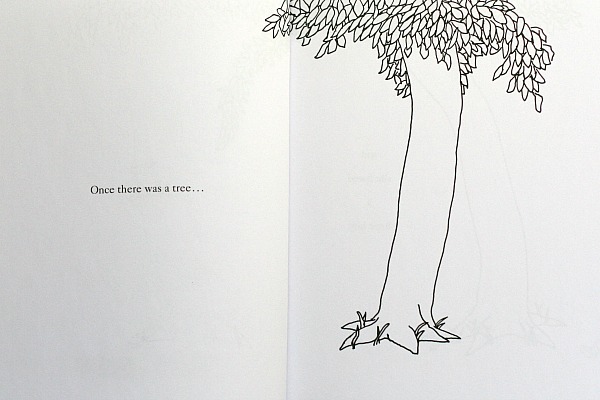 But years pass and the boy grows up. The boy spends less time with the tree.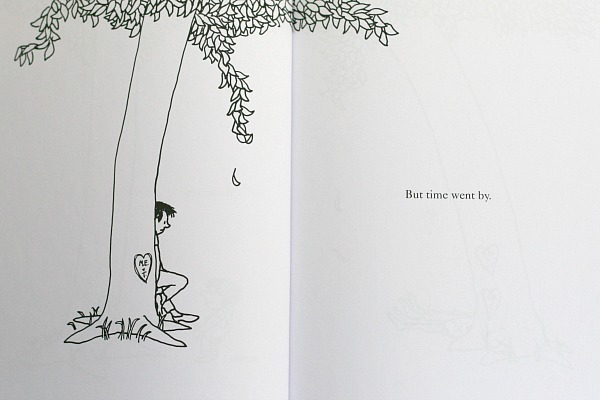 Then one day the boy asks the tree for money. All the tree can offer is her apples, so he takes all her apples.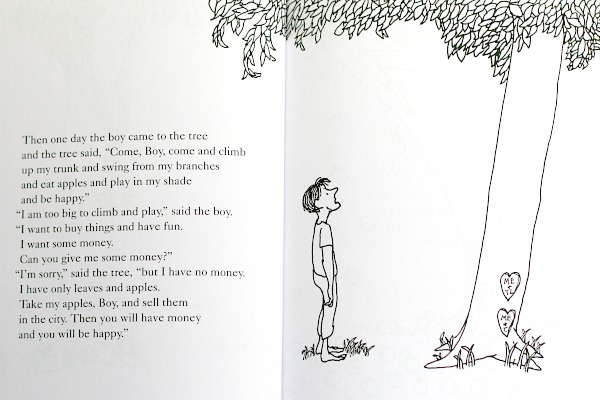 It makes the tree happy to give to the boy she loves but he doesn't stay around for long. Years later the boy returns to the tree but all he wants is a house. All the tree can offer are her branches, so he takes her branches.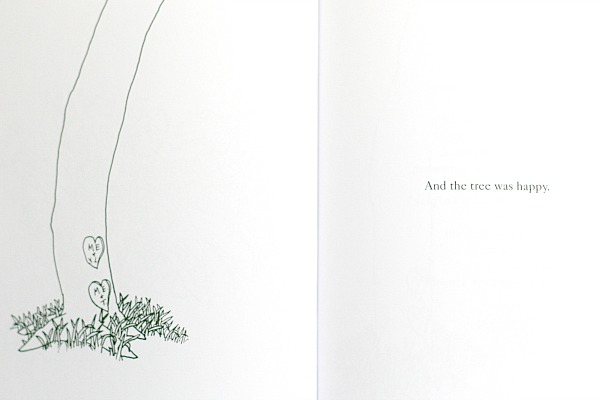 Years go by and the boy returns as he needs a boat but all the tree has left to give is her trunk, so she offers this to the boy and he takes it.
Then, he returns one final time and the tree is distressed as she has nothing left to give. She is just an old stump. However, this time all the boy wants is somewhere to sit and rest his old and weary body. The tree offers a place to sit and she's happy to be useful to the boy again.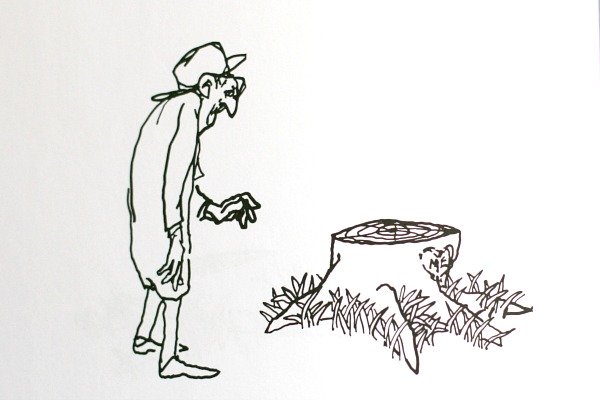 I have always thought that the sentiment of the story is very touching. The tree gives everything she can and when she believes she has nothing left to give she still has something to offer and is reunited with the boy she loves so much. To me, the story was about giving.
The toddler years are not renowned for unconditional compassion and this strand of the story completely passed Burt by. He made me see the story from a completely new perspective. We finished the story and Burt immediately pointed out that the boy never says thank you! He takes and takes and takes and even when the tree thinks she has nothing left to give he takes again. Burt thought the boy was rude and I had to agree with him! The story is about giving but Burt made me realise that it is also about being thankful.
The simplicity of the black and white illustrations appealed to Burt and we have really enjoyed the story but in a way that I hadn't anticipated. I no longer see it as an emotional tale of a tree, a boy and love. Instead it is a story of a boy who takes and appears to give nothing in return until he returns to spend his final days with the faithful tree. His gratitude is there, but it is unspoken. For my two year old this just wasn't good enough. He thought the boy should be more obviously thankful and appreciative.
Talk about
The Giving Tree gave us an opportunity to talk about why we say thank you and why these two small words are so important. We also used the story as a starting point for thinking about the people who give to us and who we should be more thankful to. It was also useful for talking about whether someone knows that you are thankful unless you tell them. In our busy lives it feels like there isn't always time to stop and say those small words of gratitude but we decided that we really like it when someone says thank you to us, so we should make the effort.
You could also use the story to think about environmental issues as we take and take from the natural world and give little back in return.
Here are some ideas or questions that you might want to use to start a discussion in your family. You know your family and which questions they are ready to tackle now and which can be left for another day:
Who has given something to you today, whether it is time, a thing or even a smile?
Did you say thank you for the things you were given today?
Do you always say thank you when someone gives you something?
How does it feel when you give someone something and you get nothing in return?
How does it feel when someone says thank you to you?
Is saying thank you always enough?
What else can you do to show someone you appreciate the things they do for you?
Can you be thankful without saying it aloud?
What are you most thankful for?
What do you like most about giving to others? Should you always expect a thank you?
Crafts and activities for kids
The Giving Tree inspired us to think about the people we love and those who give to us. We thought about the family members that give their time, cuddles, gifts and love and decided to make our own Giving Tree to remind us of the people we shouldn't take for granted.
Have a look at the Pinterest Board full of crafts and activities for kids…
Follow Read and Create's board The Giving Tree by Shel Silverstein on Pinterest.
Or take a look at these activities to accompany reading the book:
What have you been reading this week?