Shrove Tuesday (or Pancake Day) is next week, traditionally the day when eggs, butter and milk were used up before the beginning of Lent. These days it usually means a mad dash to the local shop for eggs and lemons so that you can enjoy the evening eating burnt batter, scraped off the ceiling or floor (or both shhhhh!). Not for us this year! We have been getting into the pancake spirit early, inspired by a rich and delectable story, Mr Wolf's Pancakes by Jan Fearnley. Bring it on!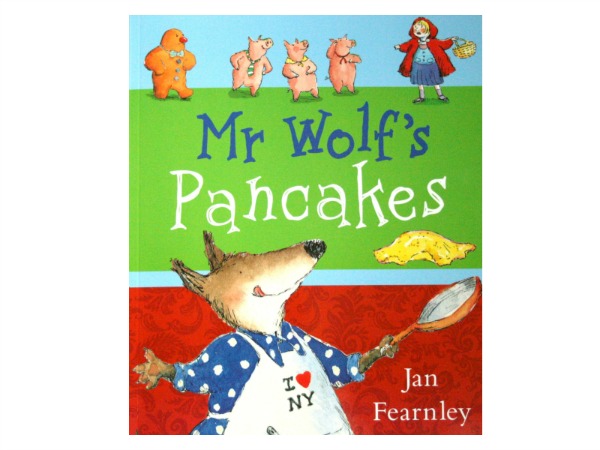 Mr Wolf's Pancakes by Jan Fearnley stars the delightful Mr Wolf and he is hungry. He fancies some pancakes but he has never made pancakes before. He looks in his recipe books but he isn't very good at reading so he decides to seek the help of his neighbours. Now, we all know that wolves get quite a bad press where fairy tales are concerned but Jan Fearnley cleverly wins us over so that we are rooting for Mr Wolf by the time Chicken Licken slams the door in his face.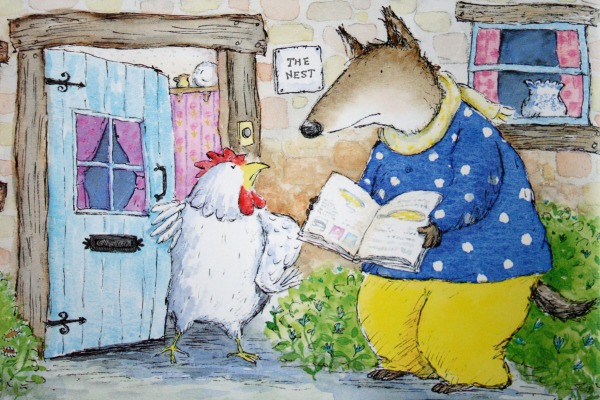 Poor Mr Wolf. He has to sit down on his own and read his book very slowly to work out which ingredients he needs.
Unfortunately, he doesn't have any of the ingredients in his cupboard, so he decides to write a shopping list. Again, Mr Wolf has trouble with his list so he calls on Wee Willy Winky for help, only to have the door slammed on his pointy wolf nose.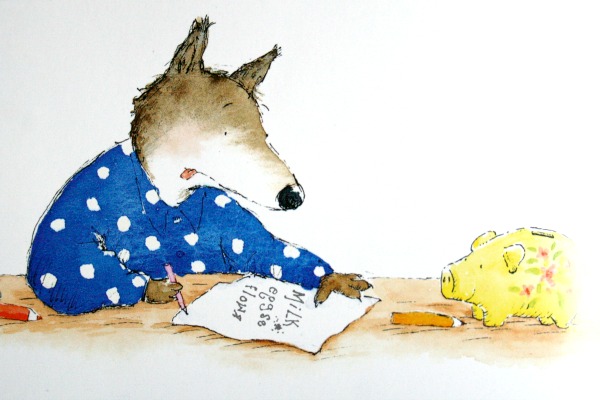 Mr Wolf sits down and with effort and perseverance he writes his shopping list. He seeks the help of the Gingerbread Man to count out his money but the grumpy Gingerbread Man is no help to Mr Wolf. Similarly, when he calls on Little Red Riding Hood to borrow her basket he gets sent on his way with a flea in his ear.
Despite his unhelpful neighbours Mr Wolf makes it to Old Mother Hubbard's General Store and he purchases his ingredients without a worry.
When he gets home he realises he isn't very good at cooking so he asks the Three Little Pigs for help. Their rude remarks make Mr Wolf so sad that he even sheds a tear.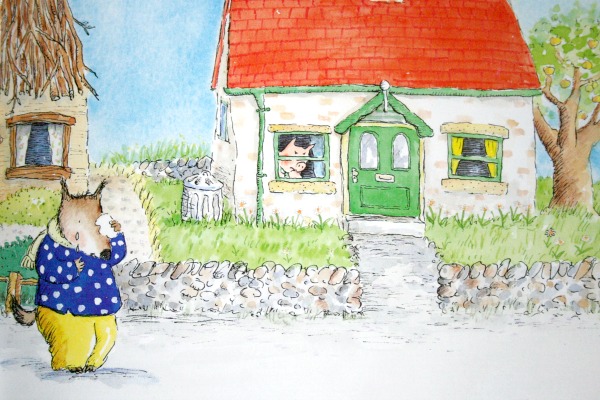 Mr Wolf shuffles home and gets started on his pancakes, all alone. The delicious aroma coming from Mr Wolf's kitchen is hard to resist and soon the greedy neighbours come knocking on Mr Wolf's door. They are so eager to come in that Mr Wolf can hardly refuse.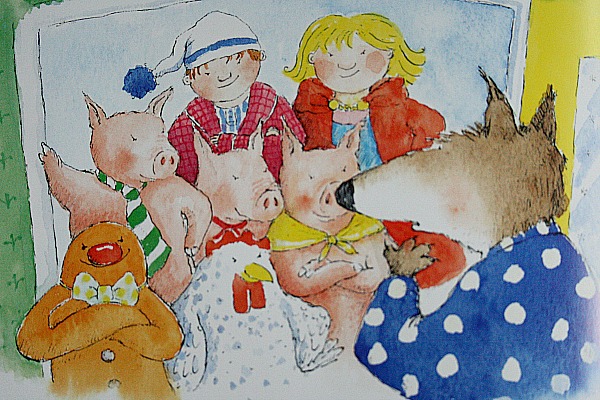 Once they are all inside Mr Wolf struggles to fight his wolfly instincts and you can imagine what happens next! 
The story is utterly brilliant for young children. it is a tale full of repetition, familiar characters, stunning illustrations filled with wonderful details and Mr Wolf is easy for young children to relate to (he finds writing, reading and counting a bit tricky and he also loves pancakes). The whole act of shopping, cooking and eating is easily identifiable for children too. It gave us wonderful opportunities to write a shopping list, count, remember ingredients and we enjoyed cooking and eating our pancakes too! I don't know when the coffee table will ever return to its original use but at the moment it is permanently set up as Old Mother Hubbard's shop and we have made an area in the kitchen for Burt to make his own pretend pancakes. Talk of pancakes is likely to go on around here way beyond Shrove Tuesday, which won't help abstinence during Lent!
Talk about
Mr Wolf's Pancakes by Jan Fearnley allowed us the chance to think about Shrove Tuesday, what the day signifies and also the situations Mr Wolf faces. We made easy three ingredient pancakes, just like Mr Wolf, and cut the shapes of characters out of the batter so we could gobble all the neighbours up ourselves!
Here are some ideas or questions that you might want to use to start a discussion in your family. You know your family and which questions they are ready to tackle now and which can be left for another day:
What is Shrove Tuesday or Pancake Day?
Shrove Tuesday is the day before Ash Wednesday. What is Ash Wednesday?
Ash Wednesday is the first day of Lent. What is Lent?
Why do you think that Mr Wolf's neighbours wouldn't help him?
What do you think Mr Wolf's neighbours could have done to help?
If you didn't have anyone to help you, would you carry on all by yourself, like Mr Wolf?
Do you think that Mr Wolf's neighbours deserved what they got in the end?
If you were Mr Wolf would you share your pancakes with the neighbours?
Crafts and activities for kids
The opportunities for play and crafts from Mr Wolf's Pancakes are fantastic. You can play shops, write a shopping list, count money, cook pancakes and observe them changing from liquid to solid, you can even eat the results! We had lots of fun with this book.
Have a look at the Pinterest Board full of crafts and activities for kids…
Follow Read and Create's board Mr Wolf's Pancakes by Jan Fearnley on Pinterest.
or take a look at these activities to accompany reading the book:
What have you been reading this week?