This week we've been reading The Giving Tree by Shel Silverstein and the story got us talking about being thankful. Often family members are taken for granted as you can come to expect them to be there, so we thought we could make something to remind us of the people we love and are thankful for. We decided to make a family tree from the handprints of family members.  Burt is lucky that all his grandparents are still with us but they don't live nearby so we had the added excitement of calling them up and asking them to send their handprints through the post. Burt doesn't get much post so it was also very exciting waiting for the handprints to drop through the letterbox!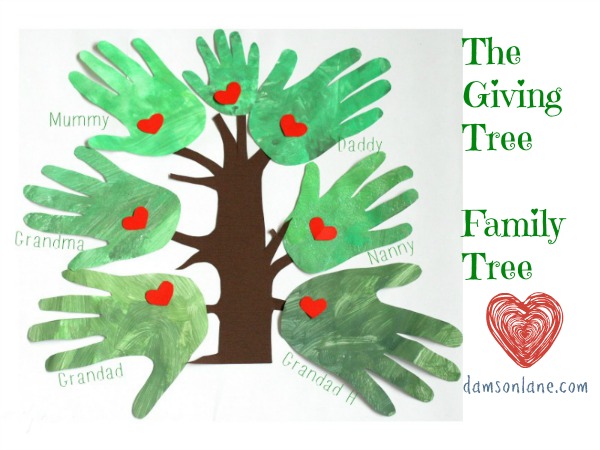 To make The Giving Tree Family Tree you will need:
green paint (or yellow and blue paint)
paintbrush
sheets of paper
handprints of family members
red card
brown card
glue
paper to mount your picture
We mixed up three different shades of green and I gave Burt several sheets of white paper and a paintbrush and he got painting! He was very happy mixing up the colours.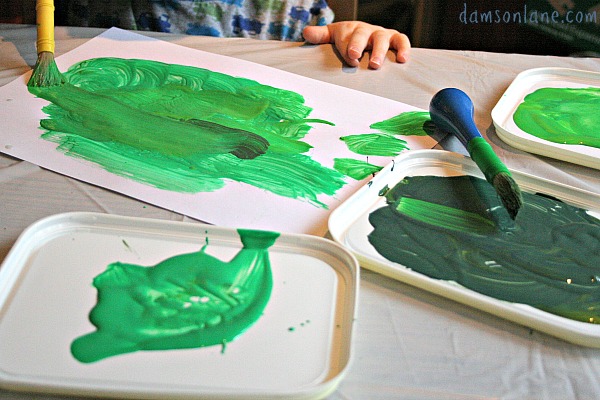 He also tried some stippling, patting the paintbrush up and down.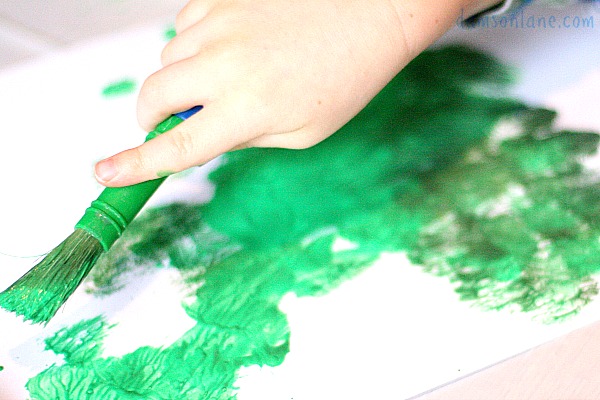 We talked about how we were going to use the green paper to make handprints and this then inspired Burt to get his fingers in the paint and swirling, smudging and smearing it across the paper.
We ended up with 5 sheets of paper covered in green paint. Once the paint was dry we drew around our hands and cut our handprints out. As we had asked the grandparents to send their handprints in the post we could also cut out their hand shapes, even if they couldn't be there to make our family tree with us.  Because Burt painted using different techniques and three different shades of green the finished handprints look vibrant and full of texture.
Once we had all the handprints ready I cut a tree trunk shape out of brown card. We compared our tree to the tree on the front cover of The Giving Tree by Shel Silverstein and realised that we didn't have any apples so we added our own twist with red hearts on our family tree.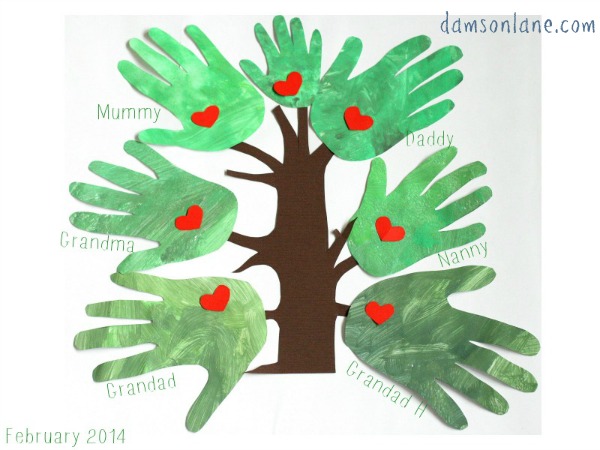 We are really happy with our family tree and I am going to mount it in a frame to hang in Burt's room. Before I frame it I am hoping to find somewhere that I can get it scanned and printed so that we can give prints of the original to Burt's grandparents. If you have any suggestions where I could do this then please let me know in the comments!
You can read more about the story that inspired us The Giving Tree by Shel Silverstein or discover some more crafts and activities linked to the book.
Have you been inspired by a book to craft, go on an outing or do an activity this week?
If you enjoying reading my posts on Damson Lane I would dearly love you to consider nominating this blog in the 'Family Fun' category of the MAD Blog Awards 2014.
I have never put my blog forward for anything like this before so your support would be hugely appreciated. You can nominate your favourite blogs here.

Thank you xx