This week we've been reading Alfie Weather by Shirley Hughes and attempting to dodge the rain showers. The weather has been particularly stormy this week and brought down trees nearby. We were inspired by the adventures of Alfie to spend the day indoors, out of the relentless downpours, and create our own sunshine. We spent the day creating rainbows from paint and paper, fruit, jelly and pizza then finished the day with an indoor rainbow picnic in a homemade den.
We began the day making Rainbow Party Fans.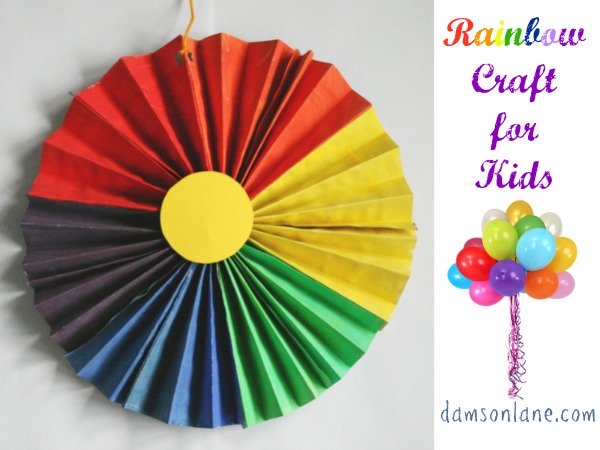 To make the Rainbow Party Fans you will need:
Paint
Paintbrush
A4 Paper
Glue
String
First we took the sheets of A4 plain paper and painted each one in a colour of the rainbow. We only have paint in primary colours so this involved lots of colour mixing as well as painting. It was tricky to find space for twelve sheets of paper to dry (we made two and only used Red, Orange, Yellow, Green, Blue and Violet) so plan ahead before you get painting! Fortunately our paint dried quickly so it wasn't too hazardous for long!
Once each of the painted sheets of paper was completely dry, we began to fold. We took the first sheet of paper and folded it lengthways in a concertina.
Then we folded the concertina in half.
We glued the inner folds to make one complete fan and used a paper clip to hold the join together until the glue was dry.
Once we had folded each individual fan we brought them all together to create a full rainbow of colours and we glued them all together.
We added a yellow circle in the centre to bring the rainbow colours together and remind us of the sunshine. Finally we punched a hole in the top and threaded some yellow wool through so that we could hang our Rainbow Party Fans up.
For the rest of our rainy day indoors we created a rainbow themed picnic. When the picnic was ready we packed our backpacks and went on an expedition around the house, until we settled and created a den with blankets so that we could enjoy our indoor picnic.
Our rainbow feast included rainbow jelly…
It was a great way to spend a stormy day inside. We were both exhausted by nightfall, despite having been indoors all day and the television didn't go on once! Another definite bonus was that Burt ate all of his pizza that he had stretched, kneaded, flattened and topped, whereas he will usually refuse to eat pizza!
You can read more about the story that inspired us Alfie Weather by Shirley Hughes or discover some more crafts and activities linked to the book.
Have you been inspired by a book to craft, go on an outing or do an activity this week?
I am linking this craft up to the #GetYourCraftOn linky over at Kids' Chaos. Pop over and check out lots of other rainbow crafts and activities.