This week we've been reading The Tale of Peter Rabbit by Beatrix Potter. This classic story is great to read in the Spring and it has inspired us to try lots of different rabbity activities and crafts. One of our favourites was a sorting activity which led us to creating and describing patterns. Learning to recognise, describe and create patterns is a key skill in early numeracy and you also end up with some beautiful artwork.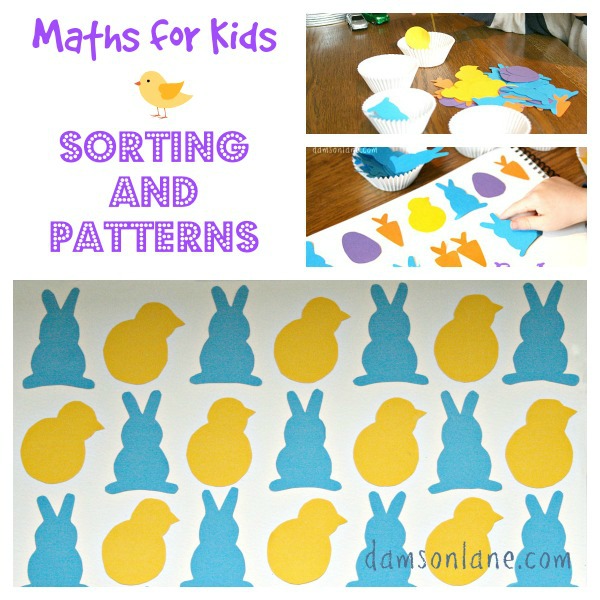 For this Easter Sorting and Patterns Activity you will need:
Scissors
Coloured card (we used blue, orange, yellow and purple)
Glue stick
Plain paper or card to stick pattern onto
Cupcake cases or bowls for sorting
Firstly, I prepared all the cut-out pieces by drawing around the templates on coloured card and cutting them out. If you have older children you can give them some fantastic scissor practise by supervising them cutting their own shapes. I cut about 15 pieces for each shape so we had plenty to play with but the number you cut is up to you.
Once all the pieces were cut I put out 4 cupcake cases with one shape in each. Then I mixed up the rest of the shapes and we were ready to get sorting. We talked about how we could sort the shapes and then Burt got going. If you wanted to make the activity more difficult then you could make the rabbits and the carrots both orange and the chick and the egg both purple and then sort by colour (one pile of orange and one pile of purple) and then sort those two piles into 4 piles, sorting by shape.
Sorting is a great activity for busy little fingers as it gives you lots of opportunities to talk about colours and the properties of shapes. How do you know that the shape in your hand is a chick? Why does that shape go in that pot with those other shapes? If your child will let you have a go then it is great to do it 'wrong' and then get your child to tell you what wasn't quite right and get them to rectify it. It is amazing what that can do for a child's self esteem and confidence and it also helps them see that everyone makes mistakes, it is alright and those mistakes are easily rectified.
Once we had finished sorting I laid a sheet of paper in front of Burt and straight away laid out a simple pattern Rabbit, Chick, Rabbit, Chick. Then I asked Burt what he thought would come next. To help your child along you can ask questions like, "What comes after the chick?" and point to earlier in the pattern as a clue. We finished a row of the pattern together and then I explained that what we had just created was a repeating pattern.
We gathered up the shapes and I started a new pattern. This time I laid out Rabbit, Carrot, Rabbit, Carrot. When I asked what came next Burt got it straight away and we were able to finish the row. Once you have established the idea of a repeating pattern then you can let your child go ahead and start creating their own. We ended up with some great combinations from using all the shapes (Chick, Rabbit, Egg, Carrot…) to using more than one of a particular shape each time (Carrot, Carrot, Rabbit, Rabbit…) (Chick, Egg, Egg…).
Once Burt was happy with his patterns we stuck them down. Don't stick until you have given your child plenty of opportunity to 'play' with the shapes and patterns as the idea is to allow time to experiment and the finished artwork is the result of that play rather than the object of the task.
The finished pattern is a bright and colourful piece of artwork that we will frame and be able to put up every Easter.
We had lots of shapes so we were able to try lots of different combinations and patterns and my favourite has to be this simple Rabbit, Chick, Rabbit, Chick pattern. We are going to be framing this one too but I might also colour photocopy it and laminate it so we can then use it as an Easter placemat in the centre of the dinner table and it would be lovely to take it further and create a rabbit and chick stamp and recreate the pattern on some fabric. 
Maths is part of the world all around us. Patterns are everywhere: in nature, in or on and part of the things we buy and use every day. Maths is fun, it is relevant to our lives and it is something that you will use throughout your life. If you use money you are using numbers and maths. If you measure something when you cook (even if it is heating up a microwave meal for the correct amount of time) it is all maths.
Sorting and creating patterns is something that you can do with any colours and shapes so go for it and let your children's imaginations run wild. It is great fun and all you need is paper, scissors and glue.
You can read more about the story that inspired us The Tale of Peter Rabbit by Beatrix Potter or discover some more crafts and activities linked to the book.
Have you been inspired by a book to craft, go on an outing or do an activity this week?