The Tale of Peter Rabbit by Beatrix Potter is a book that I dearly loved when I was a child (and still do). Sharing this beloved tale with the next generation has been made easier by new animated tales of Peter Rabbit but I wanted to share the classic version with my little one.  If you don't know the story, it tells of Peter's escapades in Mr McGregor's garden, a place he is forbidden to go to as it is fraught with the danger…
Your Father had an accident there; he was put in a pie by Mrs McGregor.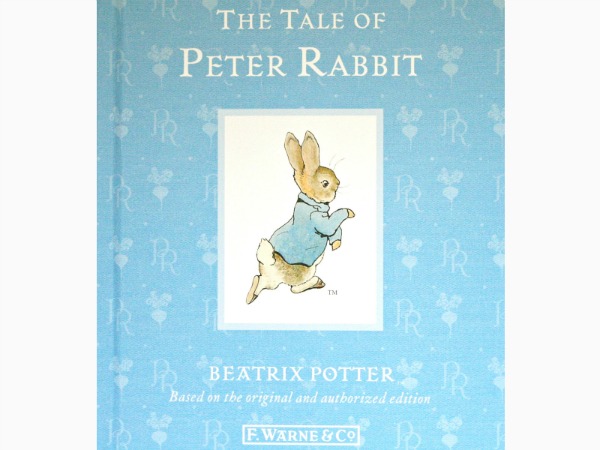 Peter and his sisters Flopsy, Mopsy and Cotton-tail are sent out to play by Mrs Rabbit but she warns them to stay to the fields or the lane. The three sisters dutifully go down the lane and pick blackberries.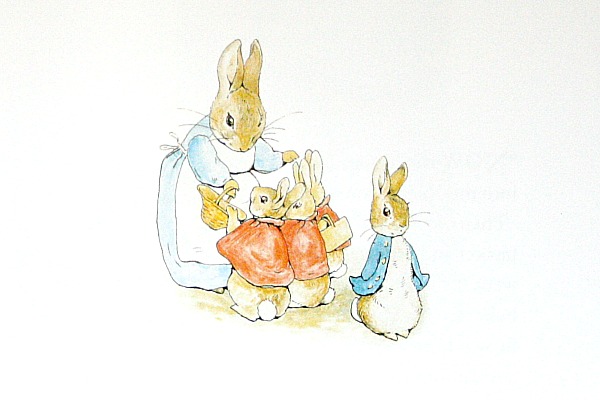 Against his mother's strict instructions Peter goes straight to Mr McGregor's garden and begins to feast on delicious fresh vegetables. He eats lettuces, French beans, radishes and then he starts to feel quite ill.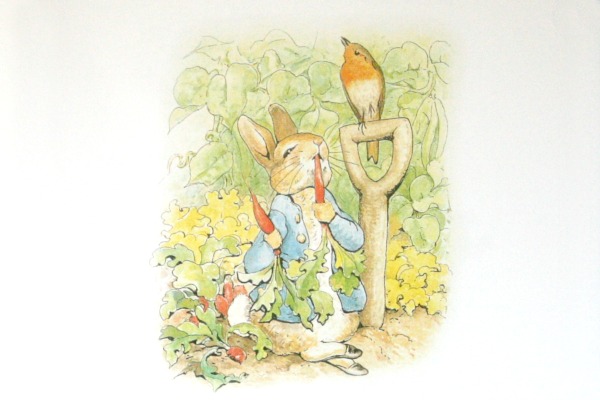 Peter goes in search of parsley to settle his stomach. However, he comes face to face with Mr McGregor and runs for his life! In the panic he runs into a gooseberry net and his buttons become caught. He believes he is done for and begins to cry. Some sparrows encourage Peter to keep trying and at the last moment he frees himself but he has to leave the jacket behind. He eventually escapes Mr McGregor and realises he is very lost. It takes him some time to find the gate out of the garden to the safety of the woodland.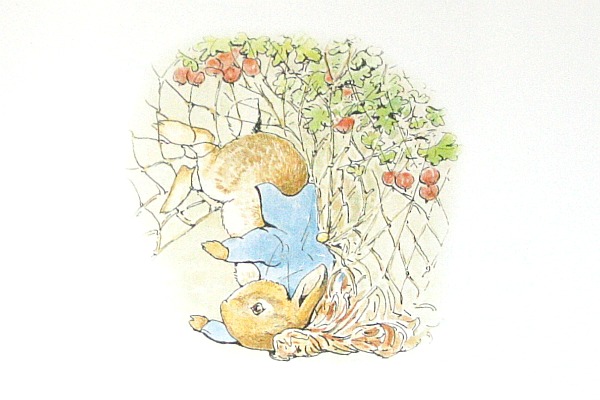 Mr McGregor finds the little coat and shoes that Peter Rabbit had to abandon and he hangs them in his garden to make a scarecrow.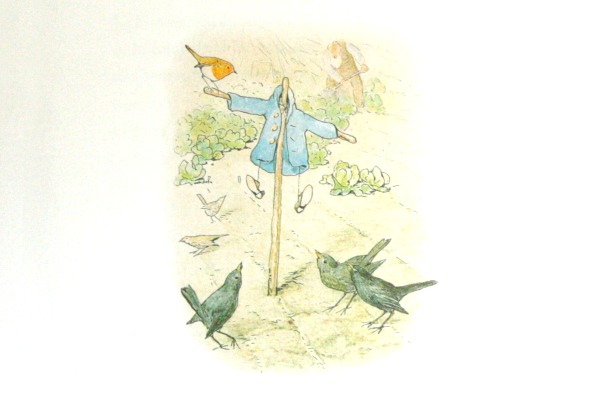 When Peter gets home he is exhausted and flops in a corner and goes to sleep whilst Mrs Rabbit wonders where on earth his coat and shoes have gone to! Unsuprisingly, Peter feels very poorly that evening and has to go straight to bed with some camomile tea.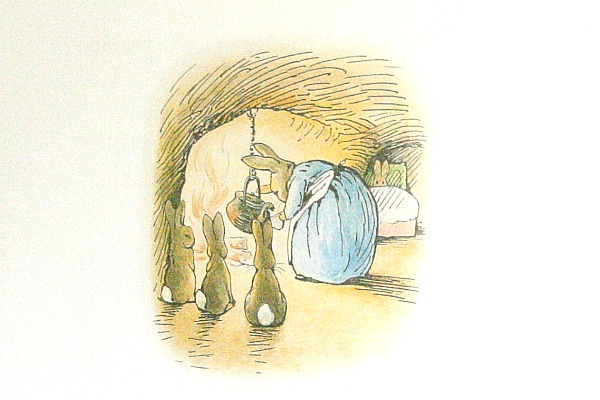 Flopsy, Mopsy and Cotton-tail get to eat delicious blackberries for their supper as reward for listening to and following their mother's instructions.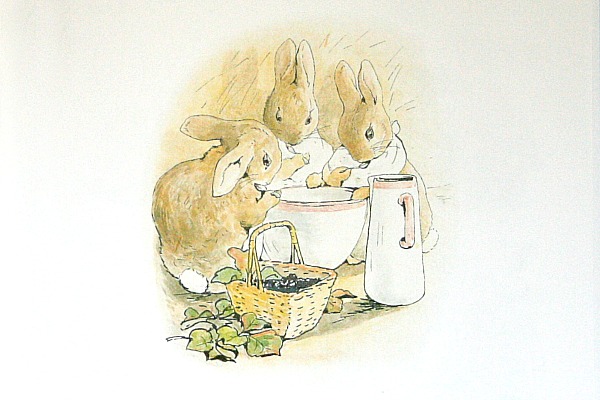 Exquisite illustrations accompany what is quite a dramatic story filled with peril and narrow escapes. Peter deliberately disobeys his mother's instructions and the result could have been fatal. Burt loves the adventurous Peter but I am quick to point out to him that Peter gets himself into terrible danger and also makes himself quite unwell!
Talk about
The Tale of Peter Rabbit is easily enjoyed as an exciting story with detailed and beautiful illustrations but it could also be the starting point for a conversation with your child or children about the importance of listening to warnings or instructions given by parents or carers and why children should play within the boundaries set.
Here are some ideas or questions that you might want to use to start a discussion in your family. You know your family and which questions they are ready to tackle now and which can be left for another day:
Where does Peter go?
Is he allowed to go there?
Why do you think that he went to Mr McGregor's garden when his Mummy had told him not to?
Have you ever done something that you knew you were not supposed to do?
Why do you think it is important to follow the instructions of your parent or carer?
Why do you think adults make rules for children about where they can and can't go?
Are there any places where adults can't go without special permission?
Where are you not allowed to go?
Do you know why you are not allowed to go there?
Do you think Peter would have had a better day if he had gone down the lane with his sisters to pick blackberries?
Crafts and activities for kids
There are lots of opportunities for discussion, play and crafts inspired by The Tale of Peter Rabbit by Beatrix Potter.
Have a look at the Pinterest Board full of crafts and activities for kids
Follow Read and Create's board The Tale of Peter Rabbit by Beatrix Potter on Pinterest.
or take a look at these activities to accompany reading the book:
To accompany your reading of the story here is a lovely video of The Tale of Peter Rabbit by Beatrix Potter.

What have you been reading this week?