This year We're Going on a Bear Hunt by Michael Rosen and Helen Oxenbury celebrates its 25th anniversary. The enduring power of this wonderful book is testament to the fantastic language and mind-opening illustrations. It is a book that will get you up and moving, experimenting with language and sounds, laughing and playing: just watch the video of Michael Rosen performing the story at the end of the post if you don't believe me!
The story follows the intrepid family on a bear hunt through grass, forest and even snow.
We're going on a bear hunt.

We're going to catch a big one.

What a beautiful day!

We're not scared.
As the family venture onward they encounter obstacles. The long wavy grass won't stop them…
Swishy swashy!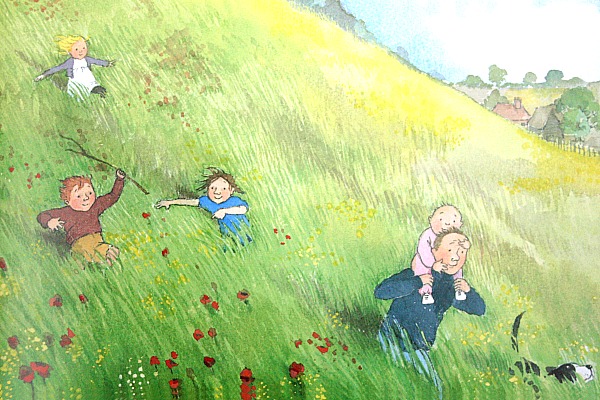 The deep cold river won't defeat them…
Splash splosh!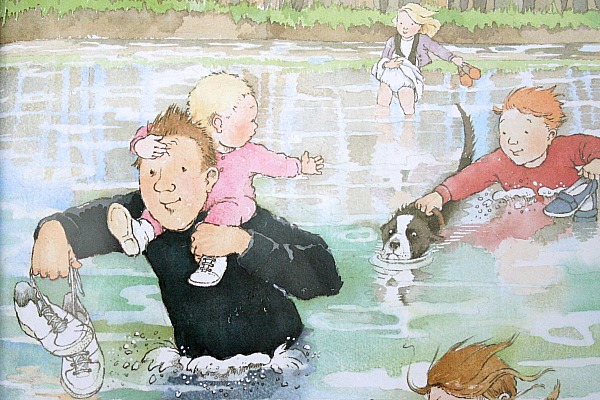 Thick oozy mud can't beat them…
Squelch squerch!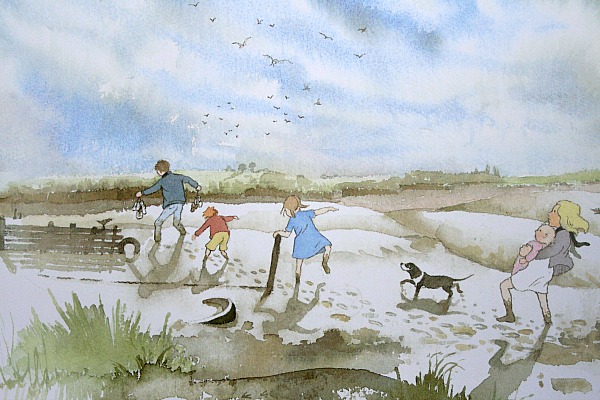 Even the swirling whirling snowstorm is no match for these adventurers…
Hoooo woooo!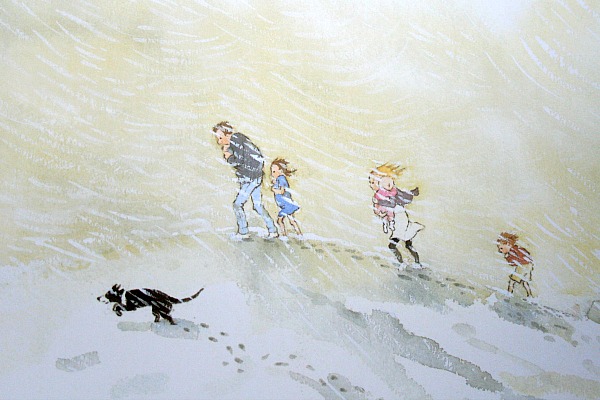 The family of explorers eventually reach a gloomy cave. A bearish sort of cave. What do you think they find inside?
The final page of the story has no words but the stunning artwork of Helen Oxenbury raises lots of unanswered questions which will give you lots to think about and discuss.
Talk about
We're Going on a Bear Hunt is a brilliant book to read with young children as the sequence of events is quickly picked up so that they can 'read' along too. If a child can tell a story from a book before they can decode letters and sounds it helps boosts their self-esteem as a reader. It also helps them to understand the relationship between the illustrations and the text and begins their journey as a reader.  The story is also fantastic for children beginning to read independently, especially if the story is familiar to them, as the illustrations and the sequence can give them extra help when decoding any tricky words.
We're Going on a Bear Hunt can be enjoyed at any age and would be great fun to use with older children when looking at onomatopoeia or adjectives. You could challenge older children to think up different adjectives for the grass, forest, cave and see how it changes the story. Please don't think that amazing picture books like this are only for preschoolers. There is something in here for everyone: great story; rhythm; language; incredible artwork; and humour.
Here are some ideas or questions that you might want to use to start a discussion in your family. You know your family and which questions they are ready to tackle now and which can be left for another day:
Who is going on the bear hunt in the story?
Whose idea do you think it was to go on the bear hunt?
How does the bear in the story feel?
What is the bear thinking about when he walks along the beach, in the moonlight, at the end of the story?
Would you hide from the bear? What would you do?
Who would you take on your own bear hunt?
Where do you think you would start looking for a bear on your bear hunt?
What sounds would you make on your bear hunt?
What does it sound like when you walk on the beach/through the school corridors/through your home?
What does it sound like when you sit still and really listen?
Crafts and activities for kids
There are lots of opportunities for discussion, play, movement, activities and crafts inspired by We're Going on a Bear Hunt.
Have a look at the Pinterest Board full of crafts and activities for kids…
Follow Read and Create's board We're Going On A Bear Hunt by Michael Rosen and Helen Oxenbury on Pinterest.
You can also take a look at these activities to accompany reading the book:
 To accompany your reading here is the amazing performance of the story by Michael Rosen: 

There's also a fantastic video of Michael Rosen and Helen Oxenbury discussing the creation of the book, celebrating 25 years since the book was first published.
What have you been reading this week?