Despite the freezing February weather there are still plenty of gardening activities for kids to get involved with, to prepare for warmer times ahead.  We have been saving yoghurt pots, milk bottles and jam jars as I don't want to spend lots of money on plant pots this year and when I started cutting the milk  bottles in half to make our plant pots I realised that the top half of the milk bottle was perfect for a watering jug!
To make a recycled planter and water jug you will need:
A large plastic milk bottle with a handle;
Scissors;
PVA glue;
Paint;
Paint brushes.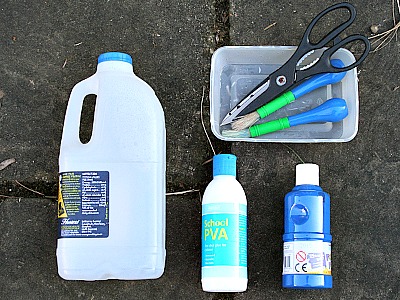 First I cut the milk bottle in half with a pair of scissors. We used the bottom half to create our planter and the top half to create a water jug.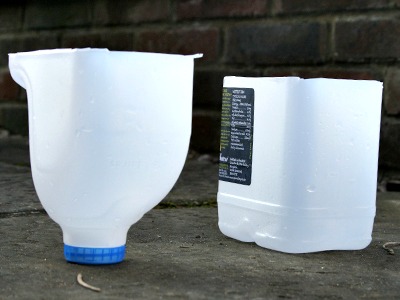 Then I made holes in the bottom of the planter to allow water to drain out.
Then we mixed some paint and PVA glue together to make a sticky paint to brighten up our recycled planters.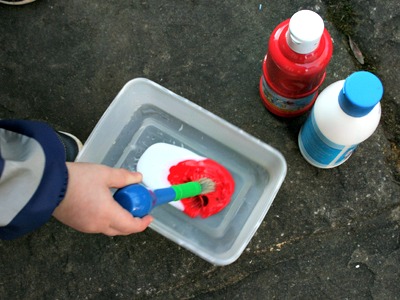 Then we painted the bottom and the top half of the milk bottle.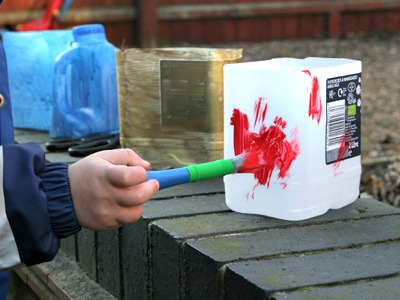 It took about half a day for the paint mix to dry and then we filled the bottom of the planter with stones and potting compost and planted some Narcissus in them to add some hope of Spring to the garden.  Our new blooms needed a water to help them settle into their new home so we had our first opportunity to test our water jug.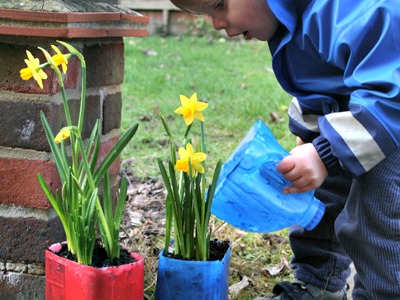 The water jug has proved to be a real hit as it is much easier to use than a heavy watering can and ours have also been used as vessels for all kinds of exciting things like stones and feathers as well as water!  We did find that after we had watered the plants a few times the paint started to come away from the jug so you might want to use permanent markers to decorate your water jugs instead.
Once the Narcissus stop flowering we will be putting our planters by the kitchen door and sowing lettuce in them.  We just need some warmer weather *taps fingers*.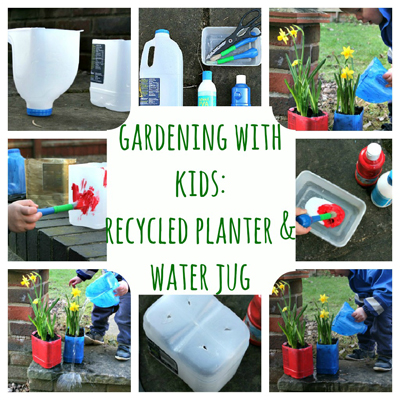 Have you been out in the garden this week with your children?  Come and join in the Gardening With Kids Community on G+ and share your stories.  We are also joining in with the fantastic Country Kids linky from Coombe Mill and if you love sharing the outdoors with your little ones do visit the Country Kids Community on G+ too.