February is still a quiet time in the garden so now is a good time to do any hard landscaping and building new borders or beds.  It is also a good time to give the garden a general tidy-up before things get busy in March.  As much as I would love my little man to be busy constructing raised beds in the garden he is still a wobbly toddler and major construction projects are a little way off for him.  That doesn't mean that he isn't busy in the garden.  Wrapped up warm he has been able to explore, discover and grow in confidence and knowledge.
This week we found a fantastic small garden broom at a local garden centre so that the little man can help tidy up the garden.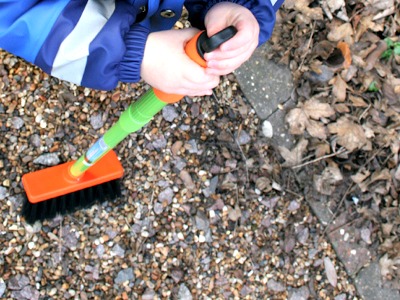 We looked at the different sizes and colours of stones in the gravel.  Then someone popped them inside the watering can!
We haven't quite got the hang of brushing up yet but it is good fun learning and trying.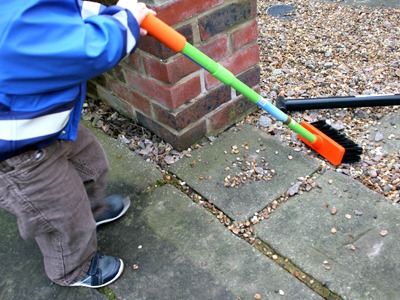 We looked in things, on top of things and under things.  There is so much to investigate!
Then the sun came out to give us a rare moment of warmth.
Have you been out in the garden this week with your children?  Come and join in the Gardening With Kids Community on G+ and share your stories.  We are also joining in with the fantastic Country Kids linky from Coombe Mill and if you love sharing the outdoors with your little ones do visit the Country Kids Community on G+ too.