The sun has finally come out here and if you have been tempted into the garden by the warmer weather and you fancy planting some seeds with your little ones then why not try to grow your own carrots?  If you want to grow lovely straight carrots then you need a sandy loam soil and we have clumpy, clay soil with stones like rocks, so we are growing our carrots in pots.   We added some chunky stones to the bottom of the pots - you can see I'm not joking when I say that the stones in our garden are not exactly small!
Then we filled the pots, almost to the top, with an organic vegetable grower's compost.  Burt happily spent at least half an hour putting the compost into the pots with his tiny trowel and digging and turning the soil.  I love the earthy smell of compost and it makes me very happy to see Burt running the soil through his fingers, connecting with the natural world and enjoying being outdoors.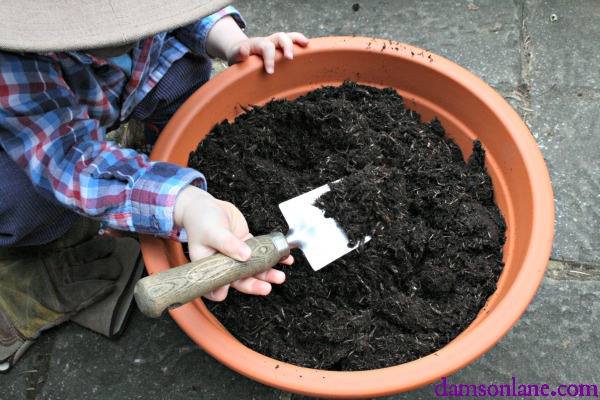 Only when Burt was finally satisfied that he had done enough digging did we start with the seeds.  We have decided to plant a variety called 'Nandor F1 Hybrid' as it is suited to growing in containers. I made a trough in a circle around the edge of the pot and one in the centre and then Burt helped me sprinkle the seeds.  Once we had spread the seeds out between the two pots we added a thin layer of compost to cover the seeds and pressed down lightly on top of the soil to firm it down.
Then it was time for Burt's second favourite job - watering! A child's watering can is actually perfect for watering seeds as it allows just a light trickle of water.
The weather forecast is for fairly warm weather for the rest of the week which is perfect for helping the seeds to germinate.  We have put them on the patio in a very sunny spot and will keep them watered, then once the carrots begin to grow we will thin them out, which just means we will pull up a few of the new plants to ensure that the pot isn't too overcrowded.  I will be keeping an eagle eye on the pots to try and ensure that the slugs and snails don't get to chomp their way through our crop and fingers crossed we will have some delicious carrots in a few weeks time.
After all that hard work it was time to play and what is more tempting than Mum's hat and gardening gloves?
Are you growing any vegetables in pots this year?  What works well for you?  You can let me know in the comments below.