This week we've been reading The Shape of My Heart by Mark Sperring and Alys Patterson and we were inspired to make this Printed Heart Silhouette.  We also took advantage of a morning without rain and went to Wendover Woods to hunt for shapes in the great outdoors.   The woods are high up in the Chilterns and if I had realised I would have taken an extra jumper, as being that bit higher up it was colder than I had expected! Burt was wrapped up warm so we carried on regardless and I promised myself a coffee in the Café In the Woods to warm up later. It was quite misty when we started our walk, however that didn't spoil the stunning views, they just looked more mystical.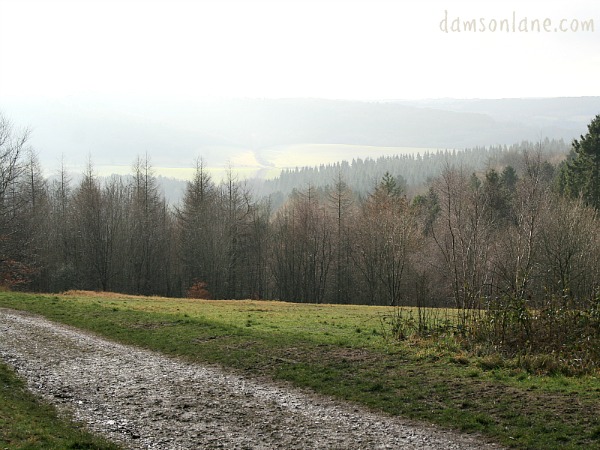 We were hunting for any shapes that we could find: circles, squares, rectangles, triangles and hearts. Once you start looking it is amazing how many shapes there are around us. Very quickly we found circles on some tree trunks. Burt and I traced the rings of the tree trunk with our fingers. Exploring shapes in a physical way is a great way of developing an understanding and some children will learn much more quickly doing this kind of activity rather than just looking at pictures of circles in books, on the computer, or colouring in shapes.
We carried on through the shapes created by the path and the trees to a stump on the ground. Despite the chill in the air what did we see? A ladybird! The ladybird was a circle, it had black circles on its back and it was crawling on a cylindrical tree stump which had a circle on two sides! This was very exciting and it was very difficult to leave the ladybird behind but we had more shapes to find.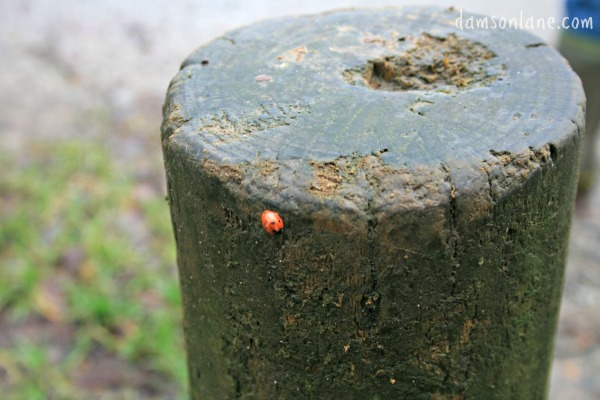 The wind has been hard at work recently blowing small branches and sticks to the ground. Burt decided to collect some sticks and we made our own shapes out of the sticks that he found. This might not be a rectangle in the strict mathematical sense but it shows an understanding that there are four sides, two short sides and two longer sides. If you have older children you could challenge them to find more unusual shapes or create equilateral, isosceles and scalene triangles with natural materials.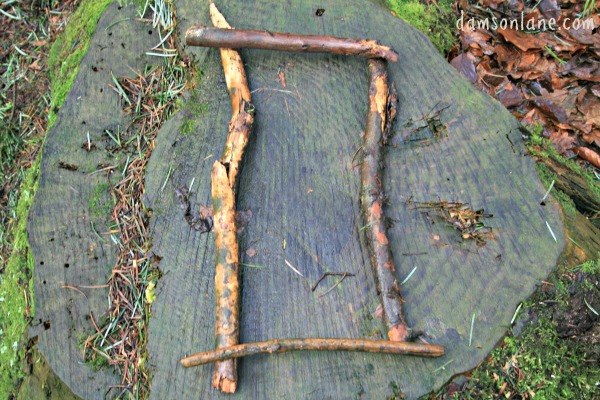 Along the trail we were following we stumbled upon the Den Building Area! This is an area where lots of trees have recently been felled as part of the management of the forest. The branches of the fallen trees have been removed from the trunks and left in piles on the ground so that you can build your own shelter in the woods. We tried out a few of the dens that had been built already and we thought this one had an entrance that looked like a triangle. It was very warm once you got inside and out of the wind.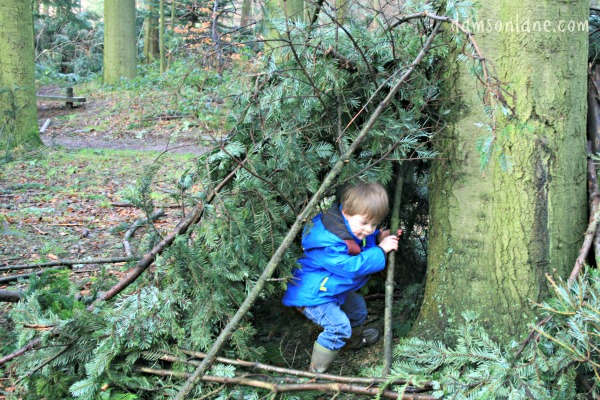 After clambering in and out of dens we carried on our search. We found rectangles in the fence as the sun started to break through the mist.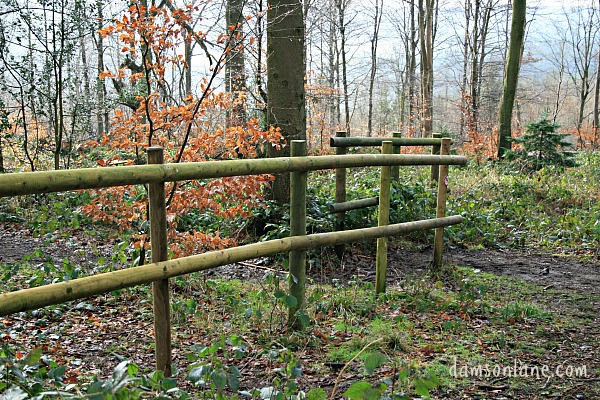 On the way back we discovered the children's play area and had a swing and a climb. We found lots of shapes here: the circles in the tyres; the squares in the scramble net; the rectangles in the wooden structures.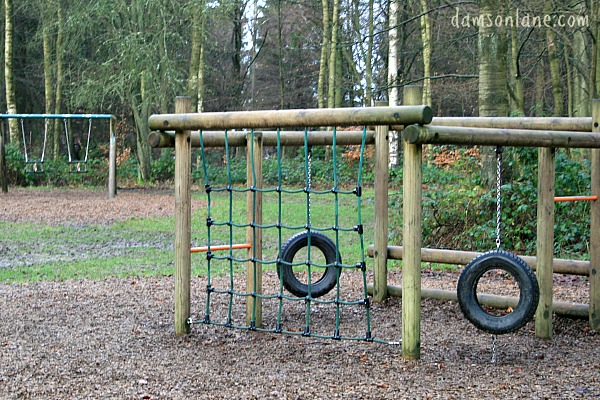 Our shape walk reminded me that there are learning opportunities all around us and it helped Burt to see that shapes are not just things in books, they are part of our world - natural and man-made. In our society the overall attitude to maths seems to be a negative one but maths doesn't have to be boring and irrelevant. Shapes help us understand and make use of the world around us, they are everywhere, we just need moments in our daily lives to pause and realise their importance.
You can read more about the story that inspired us The Shape of My Heart by Mark Sperring and Alys Patterson or discover some more crafts and activities linked to the book.
Have you been inspired by a book to craft, go on an outing or do an activity this week?
I'm linking up this week with Coombe Mill Country Kids linky with lots of other bloggers who love spending time with their kids outside, even if the weather is shocking!