It isn't often that you find a family attraction that is dedicated to nature, conservation and preservation but Butterfly World Project in Hertfordshire was established to educate visitors about the life cycle of the butterfly and how to grow plants and flowers to encourage and protect native species in our gardens.  The whole project is a long term development with plans to eventually build an impressive biome when funds allow but in the meantime there is still lots to see on a sunny day.  Until the biome is built there is a small butterfly house and it was our first chance to get really close to some butterflies.  They were fascinating but my little one only wanted to admire them from a safe distance: he definitely didn't want them landing on him!
Considering that the whole attraction is called 'Butterfly World' it is currently disappointingly light on butterflies but it is a haven for insects, bugs and beasties, including a ginormous scuplture of a leaf-cutter ant.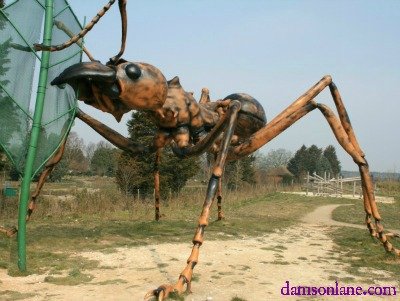 There are wildflower meadows and gardens but our favourite space was the feature garden designed by Ivan Hicks, where everything is larger than life to help you imagine what it is like to be shrunk to the size of an insect. We crawled through flowerpots and sat in a matchbox! It is a playful place to start children thinking about nature and their own environment.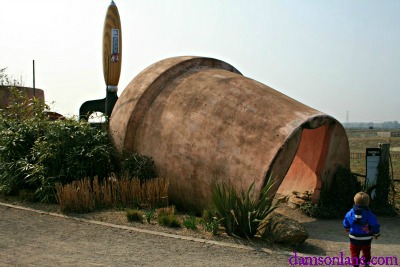 There are also twelve gardens which offer inspiration for gardeners keen to encourage wildlife and these gardens also appeal to adults and children.  We loved the Dinosaur Garden where giant dinosaur eggs lay in the middle of a nest made from piles of dead wood and grasses.
I would love to recreate the Bee Garden's wall of timber at home on a smaller scale.  It just shows that encouraging insects into the garden isn't boring or just a simple case of a wildflower meadow.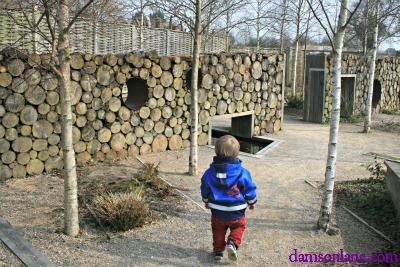 There was also a beautiful sculptural garden created using logs which would be paradise for insects and we also thought there was probably a Gruffalo hiding somewhere.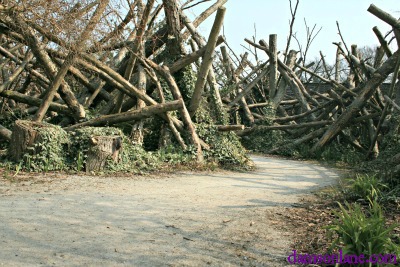 We had a fabulous morning and left inspired with creative and beautiful ways to encourage insects into the garden.  The whole place lends itself to a dry and sunny day as the indoor exhibits are limited and I hope that one day we will be able to return to see the Biome complete.